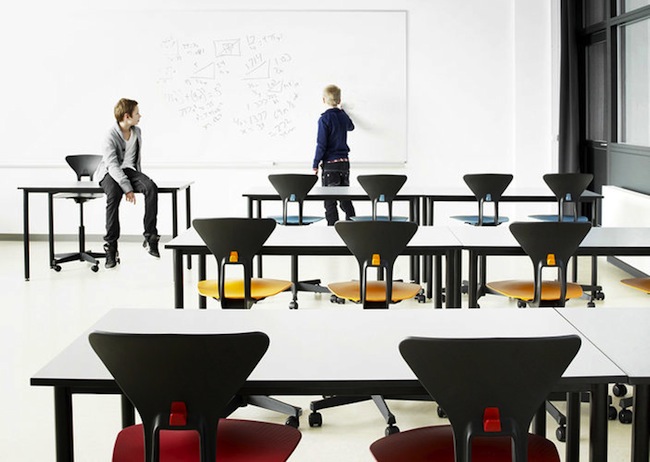 Perch
Since I am sitting as I type this, I regret to be reminded: Sitting all day reduces life expectancy. Sitting is associated with an increased risk of cancer, diabetes, and heart disease. Sitting is the new smoking. OUR CHAIRS, basically, WILL KILL US.
While adults might be able to save themselves from a sad, sedentary fate -- by switching to standing desks, by buying cushy ergonomic chairs, by getting up and walking around every once in a while -- there's a large segment of the population that has even less control than the rest of us over daily sitting habits: kids. And that's largely because we force our mini-humans to sit, day in and day out, at school.
So the industrial designer Simon Dennehy has set his sights on creating an ergonomic chair that is targeted to the classroom setting. The device, nicknamed "Ray," is a stripped-down seat -- essentially, a wheeled stool with a back brace. And it makes sitting a little healthier for the sitter, Dennehy claims, by ensuring that core muscles stay engaged ... even while the owners of those muscles are made to sit, relatively motionless, during class.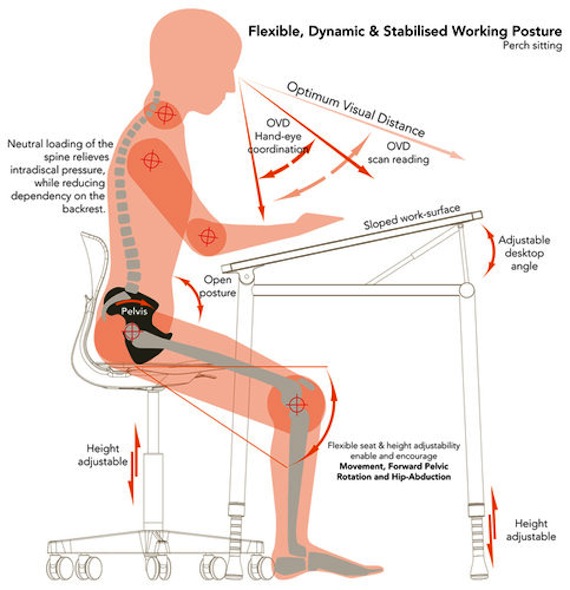 Perch
The chair works by making sitting a slightly more active experience. ("Ray" gets its name from the cartilaginous fish, whose wings are mimicked by the chair's flat, flexible seat.) It encourages kids to "self support," Fast Company notes, by engaging kids' feet and core muscles constantly throughout the day. Ray's seat is the key to all that: Since it's flexible, much like the surface of a balance ball, it forces the sitter to keep shifting his or her position even while sitting. This not only allows for constant mini-movements; it also, Dennehy claims, neutralizes the spine by tilting the pelvis downward. And that in turn avoids the "right angle" sitting position that medical experts blame for so much of sitting's health dangers.