You Can Now Take Classes From the Most Selective College in the Country on Coursera
What can an elite music conservatory gain by offering access to its courses to the masses?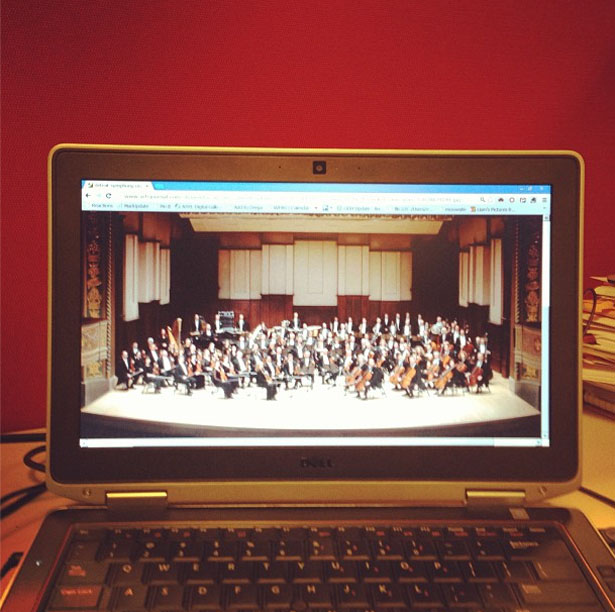 Rebecca J. Rosen
The most selective college in the country -- the hardest school to get into -- isn't in the Ivy League or West Point, NY. It's not an engineering college or a medical school. It's the Curtis Institute of Music, a tiny conservatory of classical music in Philadelphia which can boast, according to US News and World Report, an admission rate of 3.2 percent.
And which, starting soon, will offer courses on Coursera.
That's kind of a big deal. Curtis counts among its alumni some of the most famous musicians of the last century (Leonard Bernstein went there) and some of the most successful musicians of the current one (like Alan Gilbert, current music director of the New York Philharmonic). The school only enrolls enough students to fill an orchestra and an opera company (that's 166, at the moment), and all students attend for free.
So the low admission rate makes sense.
Curtis has long been known as an elite place, but it will offer two courses through Coursera next year. What will they be like, and what does that mean?
"So much of Curtis's work is one-on-one," David Ludwig, a member of the school's composition faculty and its chair of Performance Studies, told me Thursday. As a conservatory, the work of the school mostly happens in private lessons and small seminars. "One of our unofficial mottos here is 'Learn by Doing,'" said Ludwig.
Now, neither of the two courses Curtis will offer soon (the start date for both is TBA) will teach students how to play an instrument or write music. They're both music appreciation classes. The first, taught by Ludwig and another Curtis professor, Jonathan Coopersmith, is "A History of Western Music through Performance." The second, taught by Curtis faculty member and pianist Jonathan Biss, will examine Beethoven through his piano sonatas.
Both focus on performance -- the doing of music -- but no one quite knows yet how much students will "do." Ludwig said he and all the MOOC instructors hoped that Curtis's classes would involve some "interaction," though he said, "What will that look like specifically? We're not sure yet. But a big part of Coursera is that it's not just a do-it yourself video service." The Curtis faculty knows, he said, that the intimate, intense Curtis curriculum won't and can't scale, so it hopes to work with Coursera to find something that will.
"These two courses are really meant to be shared within the public and in the community," Ludwig said. "We're dipping our toes in the water and we want to see what we can do with this."
What's most interesting in that statement is that, for the Curtis Institute, MOOCs are marketing. No one at Curtis has ever taught these two courses before: "Beethoven" and "A History of Western Music Through Performance" were invented for Coursera. Curtis turned to MOOCs to popularize the name of, and spread goodwill for, the Curtis Institute -- and that's marketing.
But that's not a bad thing. Curtis seems to be becoming more involved and more oriented toward service. In the past five years, Ludwig said, it's sought to teach students to advocate for classical music, and not just to play it. "We've encouraged students to be a part of and learn to build communities," said Ludwig, "and community is something we very loosely define." If they succeed, these MOOCs will share the vitality and beauty of the Western musical tradition, and maybe they'll even help form groups of fans and supporters around Curtis or classical music.
These MOOCs spread expertise beyond a small, elite environment, and they also fit into a tradition of public instruction that doubles as advocacy. The pre-opera talk, the public concert: these have been around for centuries, and we should welcome Curtis's conception of MOOC as lecture series and textbook with style. Far from the education-libertarian views espoused by some MOOC advocates, Ludwig described goals for Curtis which seemed attainable, helpful, and just good: "Part of what we're really excited about is that we hope that [these MOOCs] will get people to come visit us."
A successful MOOC, in other words, will get "more people will come to a concert at Curtis." Bravo to that.