What It Was Like to Be Human When the Russian Meteorite(s) Fell
"It was very strong. I am speechless. It was so strong."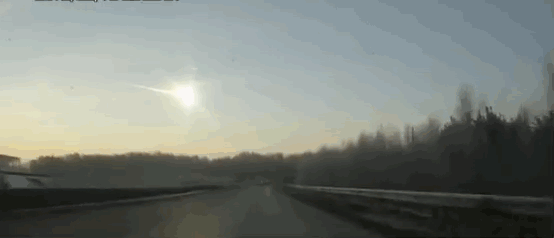 The Emergencies Ministry of Russia described what took place over the Ural Mountains this morning as a "meteor shower in the form of fireballs." For the humans who witnessed that event from the ground, though -- for the people who saw the smoking UFO, suddenly, as they were going about their Fridays -- it looked a little different. As windows shattered, as car alarms began screaming, as mobile phone networks went down, the experience was less about a meteorite and more about something much more earthly: confusion. Terror. The desire to document. The fear of apocalypse.
For the people who experienced it from ground, the scene was something like this:
"I was driving to work, it was quite dark, but it suddenly became as bright as if it was day. I felt like I was blinded by headlights."
-- Viktor Prokofiev, 36, a resident of Yekaterinburg, where the meteorite hit
"I was standing at a bus stop, seeing off my girlfriend. Then there was a flash and I saw a trail of smoke across the sky and felt a shockwave that smashed windows."
-- Andrei, a Chelyabinsk resident
"What was it? People said it was a plane that fell and exploded. I saw a bright blast from behind me. Everything was lit up, very bright light. It was like from Armageddon movie when the meteorite rain started, I really thought it was like doomsday. It was so scary especially the explosion. It was very strong. I am speechless. It was so strong. My camera couldn't reproduce how strong the bang was.'"
-- Gulnara Dudka, a woman in her 20s
"There was panic. People had no idea what was happening. We saw a big burst of light, then went outside to see what it was and we heard a really loud, thundering sound."
-- Sergey Hametov, a resident of Chelyabinsk
"I was sitting at home and typing something on my computer. Suddenly there was a huge bright flash. At first I thought something happened at my neighbor's place but a minute later the sound of the explosion came."
-- Konstantin Zharinov, a historian and journalist from Chelyabinsk
"First there was an unreal light that lit up all the classrooms on the right side of the school. That kind of light doesn't happen in life, only at the end of the world, then a trail appeared like from a plane but only 10 times bigger."
-- Valentina Nikolayeva, a teacher
"I went to see what that flash in the sky was about. And then the window glass shattered, bouncing back on me. My beard was cut open, but not deep. They patched me up. It's OK now."
-- Marat Lobkovsky