Today's Inspiring Aerospace News: Hello Kitty Touches the Face of God
You might already have seen this. I hadn't until just now, thanks to reader RJ of California (and in his case via The Register; also, NY Daily News). It's an absolutely charming video and set of photos from a science project by Lauren Rojas, a 13-year-old in Antioch, California, east of San Francisco. She decided to send a Hello Kitty "catonaut" nearly 100,000 feet into space, with a high-altitude balloon, and to record the results.

Related Story

Those results really are amazing. You'll see the whole thing laid out in the video -- with a dramatic climax around time 2:15. At that point the balloon that has carried its passenger into "near space" finally explodes -- and the spacecraft's descent, under a small parachute, begins.
Ms. Rojas obviously had help with the balloon rigs and photographic systems -- which is another great lesson from the experiment, in that innovation and discovery involve both collaboration and individual pondering. Here is just one of the stills from the flight -- not some CGI recreation but an actual photo, from the high-def camera that went aloft with H. Kitty.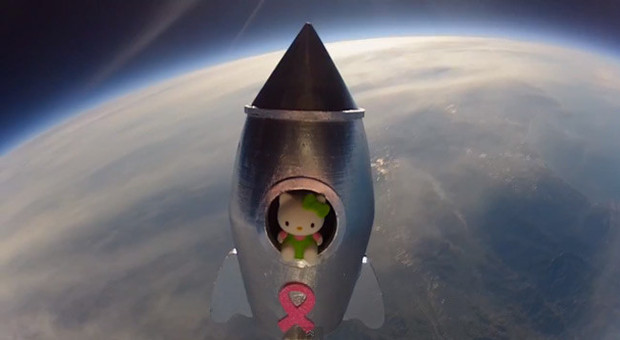 And here is the video. Congrats to all. Finally I see a reason for Hello Kitty having come into existence.

__
* Before anyone gets huffy about the headline: "Touch the face of God" is an allusion to the most famous bit of poetry about aerial exploration, either moving or trite depending on your outlook. You can look it up, learn its heroic-tragic military origin, and also trace its role in American politics. Or you can just enjoy this video.