The first photograph of a sitting United States president was taken of William Henry Harrison on March 4, 1841. The new executive had just delivered his inaugural speech—the outdoor address now most remembered (wrongly) for giving him the pneumonia that would kill him—and he paused, afterward, to pose for a portrait using the new technology of the daguerrotype.
That photograph, much like its subject, had an unexpectedly short tenure. Harrison's inaugural portrait has since been lost to history -- meaning that the oldest surviving photograph we have of an American president depicts a chief executive after his presidency. There are a couple candidates for "oldest." But they are, regardless, depictions of John Quincy Adams, the sixth president, in office from 1825-1829.
One is this, a sixth-plate daguerrotype made of the ex-president at the age of 76: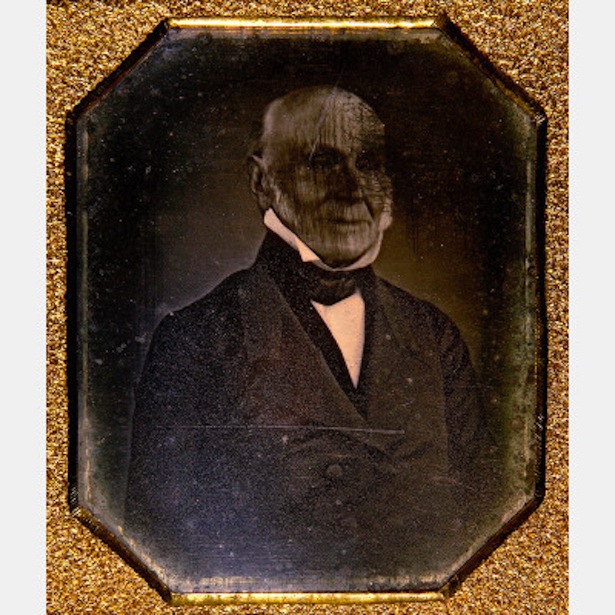 Another is this one, of the same man, taken around the same time: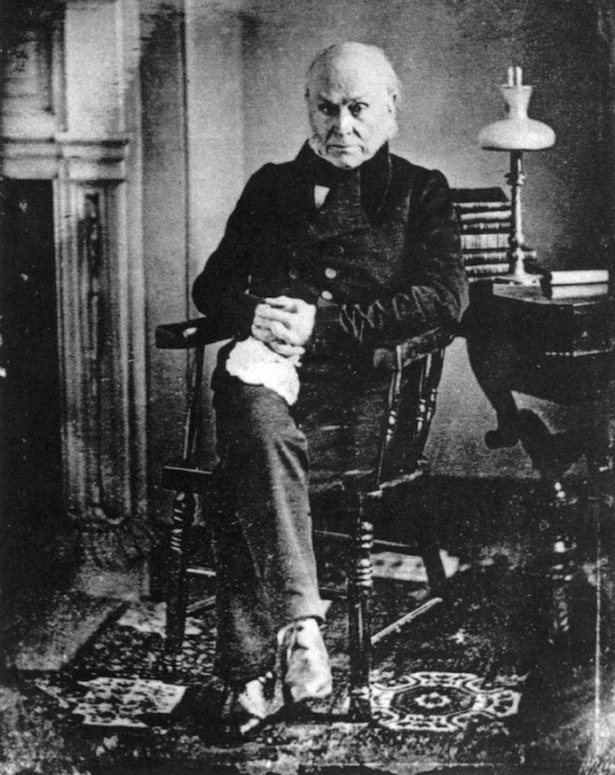 Wikimedia Commons
The second image seems to have been captured at Adams's home in Quincy (formerly Braintree), Massachusetts. Beyond that, and the fact that it was taken by Philip Haas, not much is known of its provenance.
More is known about the first image, though. It was captured during a trip the congressman and ex-president made to New York to visit not only Niagara Falls, but also his nephew and his good friend, Ezekiel Bacon. It was an eventful excursion that included, in addition to those personal calls, an itinerary both befitting of and insulting to a former Chief Executive: a trip to a women's school (which was "affecting"), a call on a child "dwarf" (impact unclear), and a run-in with a pebble that became lodged in President Adams's eye ("anguish unutterable").