The Oldest Known Photographs of a U.S. President
... was actually not a big deal at all, according to the president who sat for it.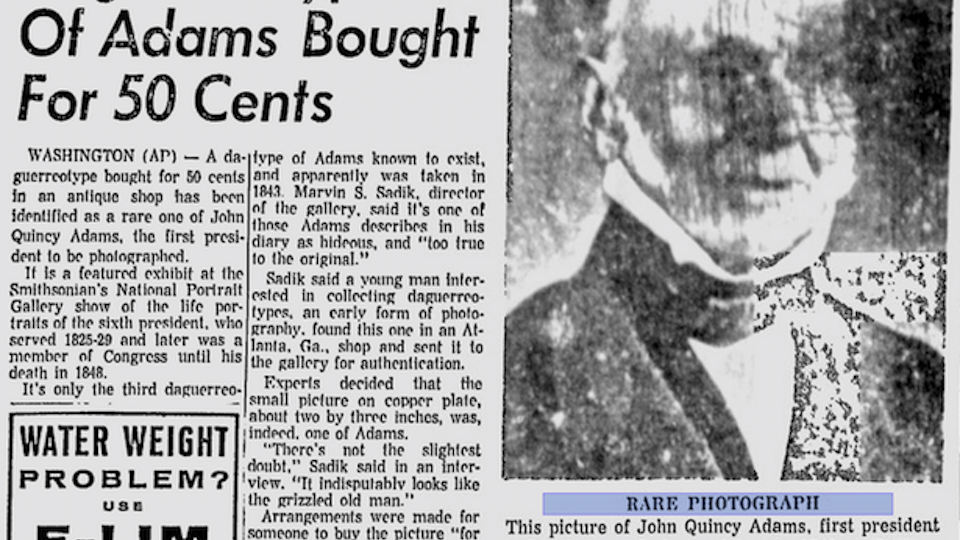 The first photograph of a sitting United States president was taken of William Henry Harrison on March 4, 1841. The new executive had just delivered his inaugural speech—the outdoor address now most remembered (wrongly) for giving him the pneumonia that would kill him—and he paused, afterward, to pose for a portrait using the new technology of the daguerrotype.
That photograph, much like its subject, had an unexpectedly short tenure. Harrison's inaugural portrait has since been lost to history -- meaning that the oldest surviving photograph we have of an American president depicts a chief executive after his presidency. There are a couple candidates for "oldest." But they are, regardless, depictions of John Quincy Adams, the sixth president, in office from 1825-1829.
One is this, a sixth-plate daguerrotype made of the ex-president at the age of 76: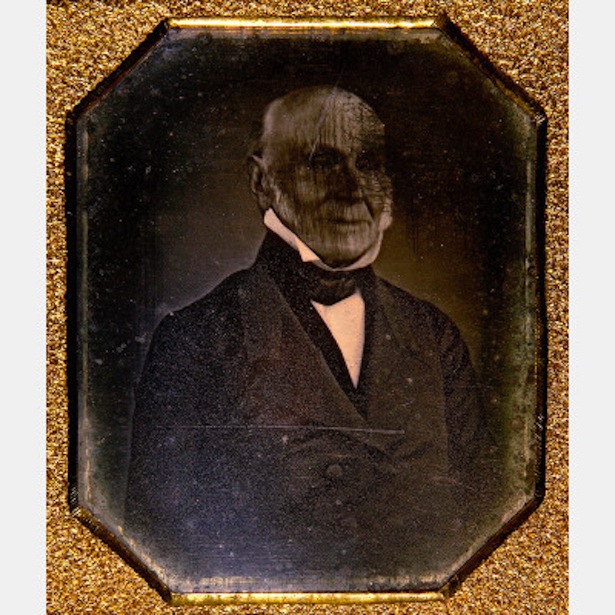 Another is this one, of the same man, taken around the same time: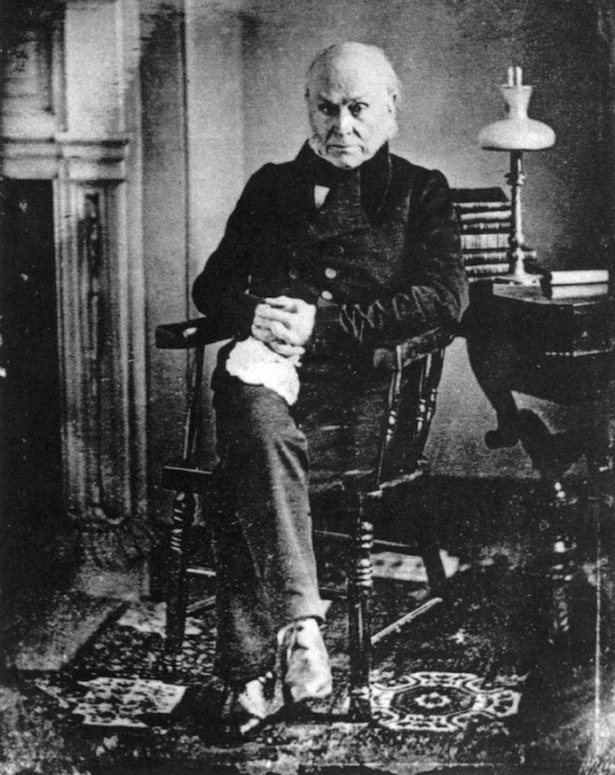 Wikimedia Commons
The second image seems to have been captured at Adams's home in Quincy (formerly Braintree), Massachusetts. Beyond that, and the fact that it was taken by Philip Haas, not much is known of its provenance.
More is known about the first image, though. It was captured during a trip the congressman and ex-president made to New York to visit not only Niagara Falls, but also his nephew and his good friend, Ezekiel Bacon. It was an eventful excursion that included, in addition to those personal calls, an itinerary both befitting of and insulting to a former Chief Executive: a trip to a women's school (which was "affecting"), a call on a child "dwarf" (impact unclear), and a run-in with a pebble that became lodged in President Adams's eye ("anguish unutterable").
We know all this because, fortunately, Adams kept a detailed diary. Below is his entry from August 1, 1843, replicated in full—in part because Adams is a delightful narrator, emotive and acerbic at the same time, and in part because his journal emphasizes how utterly banal he seemed to find the activity of sitting for his history-making photographs. (The photos  themselves, however, he deemed "hideous" and "too true to the original.") Sitting for the daguerrotypes, per Adams's telling, was just one more thing he did on his event-filled trip to New York. And a pretty dull one at that, apparently -- an event worth approximately the same number of words as Adams's subsequent visit to an eleven-year-old nicknamed "General Tom Thumb" ... and worth far, far fewer than that pesky eye-pebble.
Here's the entry, emphasis mine:
My first visit this morning immediately after breakfast was to the Female Seminary where I was introduced to the assembled teachers and pupils and addressed in behalf of the trustees of that institution by Mr. Spencer, in a manner so affecting that it made a child of me. It consisted chiefly of extracts which he read from my mother's published letters of 19th August 1774, to my father, and of June, 1778, to me. I actually sobbed as he read, utterly unable to suppress my emotion. Oh, my mother! Is there anything on earth so affecting to me as thy name so precious as thy instructions to my childhood, so dear as the memory of thy life? I answered I know not what. My thoughts were all upon my mother; my heart was too full for my head to think and my presence of mind was gone. At the close of his address, Mr. Spencer presented to me, at the request of the ladies, twelve numbers of a monthly publication from August, 1842, to July, 1843, called "The Young Ladies' Miscellany," the original productions of the Utica Female Academy.

At ten o clock the reception took place on a stage erected in front of the Bleeker House, where Mr. Bacon addressed and welcomed me in the name of the citizens of Utica. I answered him in a speech of about half an hour, sufficiently cheered for my hopes or wishes, but of mortifying inanity to myself. The shaking of some hundred hands then followed and on my way returning to Mr. Johnson's, I stopped and four daguerreotype likenesses of my head were taken, two of them jointly with the head of Mr. Bacon -- all hideous. Then a visit to the dwarf C.F. Stratton, called General Tom Thumb, eleven years old, twenty-five inches high, weighing fifteen pounds, dressed in military uniform mimicking Napoleon.

At Little Falls I was addressed and welcomed by Arphaxad Loomis, an ex-member of the Twenty Sixth Congress, whom I did not recognize till after I had answered. In the valley of the Mohawk we saw the fortress dwelling-house of Sir William Johnson, and that of the Indian chief Brant, said to be his son. About an hour before we reached Schenectady, the wind raised by the rapid motion of the car lodged on the ball of my left eye, beneath the under lid, a small sharp-angled pebble, of the entrance of which I was not conscious when it happened, but which fretted the eye to torture, produced considerable inflammation, and made it impossible for me to look in the face of those whom I was to address. A sumptuous dinner had been prepared for us at Schenectady. I was in anguish unutterable. I retired to a private chamber and washed the eye in cold water without relief. Dr. Duane, who had observed my suffering, followed me to the chamber, examined the eye, discovered the offensive pebble, wiped it out with the corner of a towel, and I was well.
For us—or at least for me—the story here is the photographs. The first among so many! The trailblazers, the pathfinders! For Adams, however, the story was emphatically not the photos. It was the trip itself—the memories it evoked, the pain it caused, the joy. We might care about the images of him that emerged from New York, some of the first fully life-like renderings of an American president. We might care that a copy of one of the images turned up in an antique store, where it was bought for 50 cents. We might care that the same copy is now housed in the National Portrait Gallery under the care of the Smithsonian. Adams had different concerns, though—less historical, more human. He wasn't thinking about new technologies. He was just living them.
Via @danamira