The Asteroid That Just Grazed Earth: The Detailed, Colored Image
Way better than the Pong-like livestream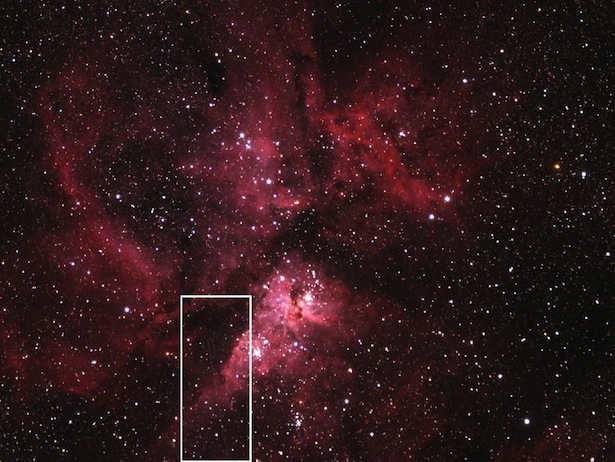 NASA/MSFC/Aaron Kingery
You watched the livestream -- or you totally missed the whole thing. Either way, you have survived: Asteroid 2012 DA14 has come and gone, sweeping past Earth, safely.
As Alexis noted, the livestream of this monumental event was pretty tame compared to the fireball that lit up the Russian skies this morning: The event, ultimately, looked like "a few pixels moving up a screen" -- and like, for better or for worse, little more than a celestial game of Pong.
The image above, however, shows 2012 DA14 in a different way -- in a space-centric, rather than Earth-centric, context. It was taken with a telescope located at the Siding Spring Observatory in Australia -- with the help of a 3-inch refractor and a color CCD camera. The image depicts the asteroid traveling within the Eta Carinae Nebula: The white box highlights the asteroid's path.