Richard III's Bones: Is This the Beginning of an Exhumation Craze?
The world is fascinated by the king's remains, found under a parking lot in Leicester. But some academics have mixed feelings about the discovery.
The world is fascinated by the king's remains, found under a parking lot in Leicester. But some academics have mixed feelings about the discovery.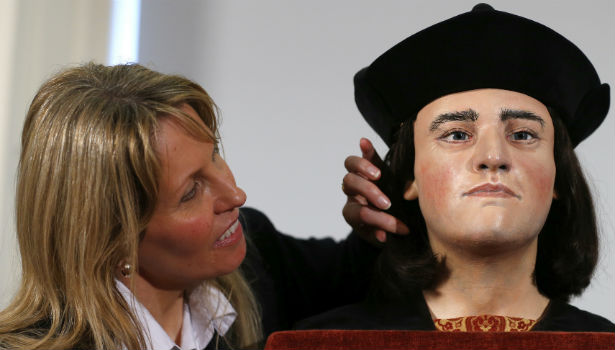 If proof were needed that technological advances promote interest in the past, consider how England is now absorbed by identification of a skeleton as the remains of the defeated King Richard III, one of Shakespeare's most memorable villains -- unless, as many latter-day admirers insist, he was really a good king defamed by pro-Tudor propagandists and literati.
Competition between the cathedrals of Leicester, York, and (tacitly) Westminster Abbey appear to be as vivid as the rivalry of medieval communities for possessing holy relics. And there's a material side to the interest as well: Leicester is already planning a visitor center. The tension between the curiosity and solemnity, exploitation and scholarship was captured by the New York Times account. The skeleton was
laid out in a locked room in the university's library, lying on a black velvet cushion inside a glass case. Two members of the university's chaplaincy's staff, one of them in the black-and-red robes of a Roman Catholic priest, sat beside the remains as reporters filed silently by, cautioned by university staff to behave with the "dignity" owed to a king.
Many academics have mixed feelings about popular enthusiasm for archaeology (like the prominent classicist Mary Beard, who tweeted "Does it have any HISTORICAL significance?"). On one hand, they want to add modern forensics in their to their toolbox. On the other, they suspect that the visual impact of finds like Richard's remains will become a one-sided fascination with material evidence to the neglect of textual sources. Some scientists, as reported by the Christian Science Monitor, are also unhappy that the results were announced before peer-reviewed scientific publication, and believe further tests are needed to rule out DNA contamination. (The archaeological evidence is so strong that they believe DNA is almost window dressing in any case.)
The ethical controversy is not about the remains of Richard, whose original monastic tomb was destroyed centuries ago, but about other dead notables still in sacred ground. Now that we have seen what striking evidence exhumation can yield, where do we stop? The Guardian has reported
that the Church of England, with backing from the Queen and ministers, has repeatedly refused requests to carry out similar forensic tests to those used to identify the remains of Richard III this week to see if the bones buried in Westminster Abbey are those of Richard's two nephews.

DNA testing was refused on the grounds that it could set a precedent for testing historical theories that would lead to multiple royal disinterments. The church was also uncertain what to do with the remains if the DNA tests were negative, potentially leaving the church with the dilemma of how to manage bogus bones. Authorities also resisted on the grounds the tests could not finally establish "if Richard III is to be let off the hook".
In fact, despite cemeteries' pledges of "perpetual care," there isn't much that most people can do to avoid eventual disinterment, of course for redevelopment rather than science. Even the ancient Egyptians, for all their belief in the sanctity of the afterlife, bought recycled coffins from grave robbers as a recent Brooklyn Museum exhibition underscored.
I know of only one major historical figure who found a solution -- the very man who fixed Richard III's reputation into our own time, William Shakespeare. The warning inscribed on Shakespeare's tomb -- "cursed be he that moves my bones" -- has worked. It's still taken most seriously by clerics and architects alike. As with his subject Richard, there's so much we'd like to know. For example, we could probably verify or discard the idea that he suffered from syphilis. And who knows what else we would find, but I doubt anybody will dare, even using non-invasive imaging. For all our fascination with the material, words haven't entirely lost their power.