Mt. Etna Erupted, and Astronauts Were There to Take Pictures
Earth's fires, captured from space
Mt. Etna is the tallest active volcano in Europe, and in an almost constant state of activity, regularly spewing gas, ash, and lava from the four craters at its summit. But in the early morning of February 19, the volcano became more active than normal: Explosions of bright-orange lava erupted from Etna's southeast crater, shooting up in the air. And over the next two days, three more eruptions were recorded. Which is significant: Though Etna is active, LiveScience notes, it hasn't erupted with successive episodes like that for more than 12 years.
The assumption: There could be more.
Indeed, on February 23, fountains of lava more than 2,600 feet tall shot out of Bocca Nuova, one of Etna's central craters. The explosions were captured, spectacularly, on video, from a safe distance. But they were captured from another angle, as well: the outside-of-Earth one. Chris Hadfield, denizen of the International Space Station and otherworldly photographer of our planet, passed over Etna as it was spewing. And he captured this image of the ashy proceedings: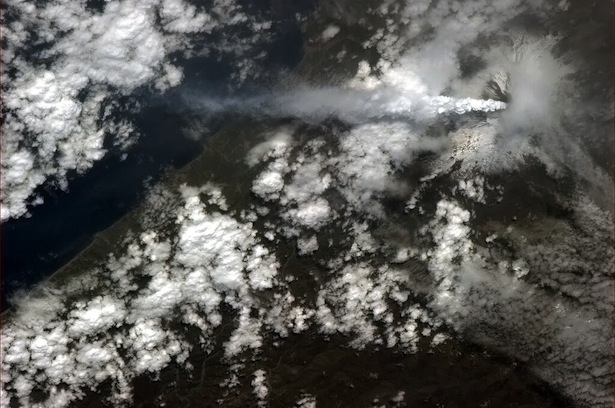 NASA/CSA
Kevin Ford, Hadfield's crewmate, caught a similar image in the form of "
smoke and shadow
":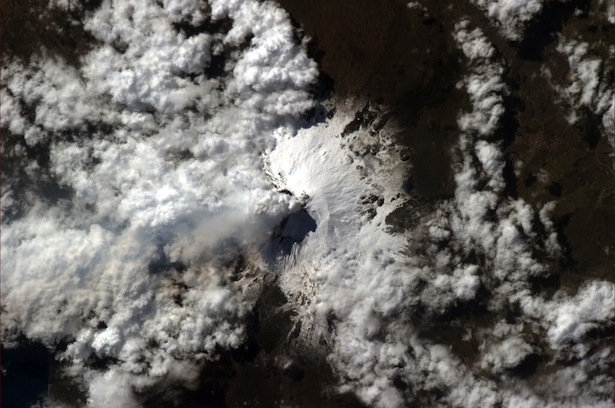 NASA/CSA