Meet the Former NASA Scientist Who's Teaching Coloradans How to Grow Marijuana Legally
Dale J. Chamberlain's High Altitude School of Hydroponics (HASH) courses are specifically designed to comply with Colorado's new cannabis law.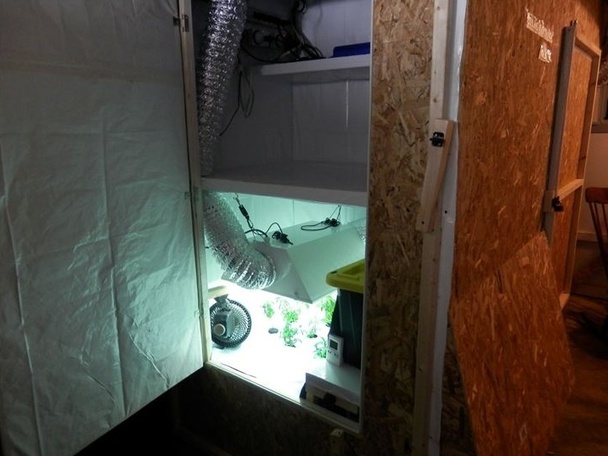 High Altitude School of Hydroponics
Even though Colorado passed Constitutional Amendment 64 legalizing the use of marijuana in November, it's still a crime to sell cannabis in the state. Sure, plenty of charitable Coloradans on Craigslist will accept "donations" for doobie. And others are happy to barter. But what if you don't have a pair of old shoes to trade for weed? How can one score an ounce of super-frosty Golden Goat in Colorado and not run afoul of the law? Former NASA scientist Dale J. Chamberlain has the answer. He'll teach you to grow it yourself, at his (acronym alert) High Altitude School of Hydroponics outside Ft. Collins.
Chamberlain knows more about far-out farming than almost anyone. At the Kennedy Space Center in the early 1990s he studied horticulture for future lunar colonies. "I assisted in building a plant-growth chamber that is still on the space shuttle," he says, explaining that low-gravity hydroponics left him uniquely prepared to handle Colorado's new legal landscape. "The law states that it must be grown in an enclosed lockable space. And although one might argue that could be a garden with a fence around it, there's more pests out there than insects and squirrels." To keep invasive teenage stoners out of your garden, Chamberlain came up with the perfect solution, a device he's dubbed The Colorado Grow Box. "We took this chamber that was designed for the space shuttle and created a grow box similar to what was flown on NASA's space shuttle fleet."
Better yet, HASH will teach you how to get the highest yield from your chamber. Chamberlain (or his cousin Chuck) offer one-day Cannabis Classes for casual growers. "Your Everyman can come away with the knowledge that he or she is not going to ruin months of work and end up with a crop that is really not worth the time. A lot of people will tell you that no one's going to go to the trouble of growing it themselves, but in this day of GMOs and pesticides, there's a lot of interest in this. Teach them to fish, if you will."
For professional growers and processors HASH offers a Masters Class and even graduate studies covering everything from extraction techniques to plant physiology to genetics. "Our more advanced students are more toward the vocational side of the industry. Because this is a whole industry, bar none. It needs a legitimate vocational angle where you can say, 'Oh, I have a higher degree from the High Altitude School of Hydroponics.'"
When Chamberlain talks about marijuana in the free market, his rhetoric soars. (Imagine JFK's moon speech as performed by Thomas Haden Church.) He likens the cannabis sector to another homegrown business with deep roots in Colorado, craft beer. "But instead of microbreweries," he says, "we're going to have very kind buds." The market for kind buds is large. According to a Colorado Center on Law & Policy study, nearly 13 percent of adults in the state use marijuana, consuming more than 2 million ounces a year. And that number is expected to rise.
It's no surprise that classes are booking up fast, which has left Chamberlain little time to ponder the truly profound question about the future of cannabis.
"Will there be weed in space?" He inhales and holds it for a beat before answering. "Let's get humanity out there first," he says. "And if humanity is out there, without a doubt in my mind. It is by far the most versatile, functional, and useful plant in the history of mankind. And whoever arrives out into the asteroid belt, I'm sure, is going to have a nice garden--which I could help them design." But anyone who's seen how astronauts go to the bathroom knows a bong in zero gravity could be very messy. Chamberlain is undaunted. "Anything can be engineered. I'm envisioning the filter in my mind now, you'd have to somehow strain the water from the air. It could be done, but there are better ways in space. They'd probably use a vaporator-type system or even edibles. The short answer to your question is: hemp in space!"