Leonardo's Notebook Digitized in All Its Befuddling Glory
The British Library has been digitizing some of its prize pieces and they announced a new round of six artifacts had been completed including Beowulf, a gold-ink penned Gospel, and one of Leonardo Da Vinci's notebooks.
"Each of these six manuscripts is a true splendour, and has immense significance in its respective field, whether that be Anglo-Saxon literature, Carolingian or Flemish art, or Renaissance science and learning," Julian Harrison, the library's curator of medieval artifacts, blogged. "On Digitised Manuscripts you'll be able to view every page in full and in colour, and to see the finer details using the deep zoom facility."
All of these texts can be appreciated on a visual level, particularly because the scans are so good. Even the grain of the paper is fascinating.

Or here's a few Da Vinci drawings, including what appears to be a doodle of a man's head.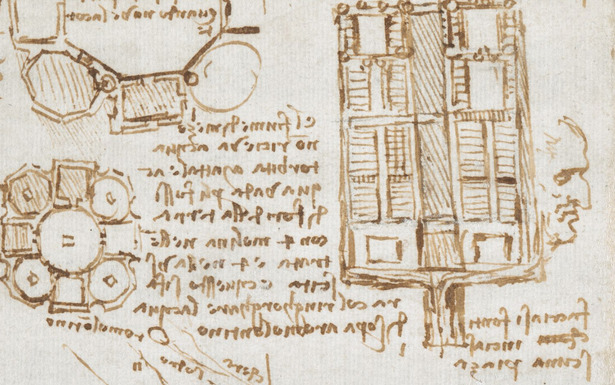 But there is a fundamental inscrutability to these texts to the untrained eye. Not only is the language unfamiliar, and the script, in Leonardo's case,
a simple code
, but without the context of the times, it's hard to make heads or tails of them, aside from aesthetic appreciation.
Of course, I'm happy such objects exist in more accessible, digital formats, but what the primary documents remind me is how important the interpreters of these works are. The raw documents do not make sense without the added layer of analysis that comes from the scholars who study these works.
Perhaps we can read this as a kind of parable for opening up data and archives. The digitization of key historical artifacts does not replace historians so much as make their work more visible to different audiences. The necessity of what they do is made plain.
An earlier version of this article incorrectly stated the digitizing institution was the British Museum, not the British Library. We regret the error.