If You Want Your Wikipedia Page to Get a TON of Traffic, Die While Performing at the Super Bowl Half-Time Show
A look at what causes Wikipedia's biggest traffic spikes
A look at what causes Wikipedia's biggest traffic spikes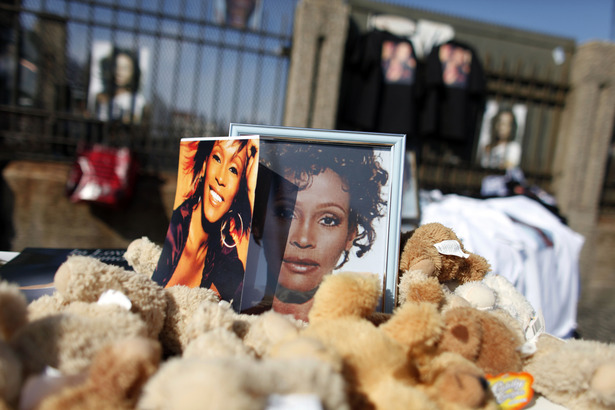 AP
In the course of an average week, the most popular articles on Wikipedia can get somewhere in the range of about 700,000 to 1.5 million pageviews, roughly speaking. But when a huge news story breaks, Wikipedia has seen a few pages get that much traffic in just one hour.
According to Wikipedia's community newspaper, The Signpost, the biggest traffic spikes come from two sorts of events: deaths and Super Bowl half-time performances (and coming-out speeches at major award ceremonies, in one case). Whitney Houston's death drove 425 visitor *per second* to her Wikipedia article.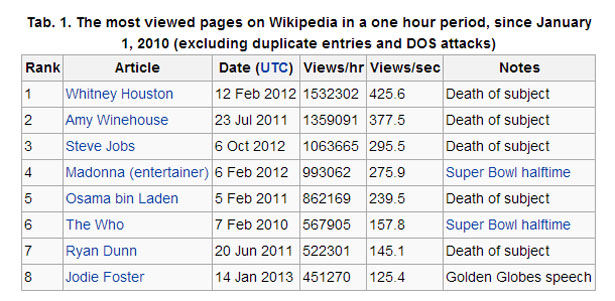 Besides event-driven traffic spikes, Wikipedia sees floods from big link aggregator sites, such as Reddit and Slashdot, its own front page, Google Doodles, and seasonal searches (i.e. Christmas and Easter at their respective times).
For non-spiky traffic, the five most consistently well-trafficked Wikipedia pages (from 2010 to 2012) are Wiki, Facebook, the United States, YouTube, and Google, much of which, the article reports, probably results from people accidentally typing those destinations sites into Wikipedia's search bar. Pulling in at number six, though, is certainly no mistake: Justin Bieber, making his Wikipedia page the #1 most visited of any living person.
H/t @TheBrowser, for both the find and the headline.