How Live Video Could Ruin Fashion Week and Leave Us With Ugly Clothes
Critics are worried streaming runway shows will change the entire fashion system, from production to sales.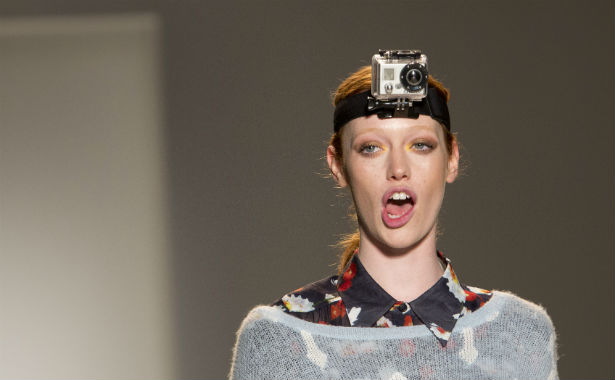 Andrew Kelly/Reuters
There's been an unusual amount of existential angst among fashion critics lately. Yes, there may be more sympathetic groups of people in the world, but at this moment it's hard not to feel bad for them. After all, a lot of us worry about new technologies making our jobs obsolete.
Their authority had already been eroded by the advent of the style blog a few years ago. Now these writers worry they may become irrelevant as fashion brands begin streaming their shows online. Three or four years ago, runway video was a novelty move. Now fashion designers are starting to tailor their runway shows to it. In a review of Monday's New York Fashion Week shows, New York Times fashion critic Cathy Horyn sums up everything that has changed, and could:
I get that fashion is a marketing opportunity, just as I got that fashion was (once) theater and in the future will be confined almost entirely to the Web -- Oscar de la Renta via Netflix, an instantaneous, seasonless, highly controlled experience; an organism of new technology that will effectively eliminate the fashion system as we know it.
Set aside the implied claim that fashion has been leeched of some kind of higher artistic purpose it used to have in favor of middlebrow commercialism. (Some people believe that; some don't think anything fundamental has changed.) The other shifts Horyn foresees -- the rise of video, the end of seasons, an accelerating production schedule -- would mean a major restructuring of the industry.
Horyn isn't the only prominent fashion writer to worry about the video invasion. Vanessa Friedman, who writes a fashion column for the Financial Times, addressed video in fashion with her February 8 dispatch. The whole thing is worth reading if you care about this stuff, but while her general tone is less exhausted than Horyn's, she comes away with the same conclusion: Technology, and video in particular, is changing the nature of fashion shows. And she goes further -- the change could lead to some (literally) ugly style developments.
Let's break out some of Horyn's and Friedman's claims to see how video, and other new technologies, could change the way that rich people -- and all of us -- dress:
The criteria for casting models will change; so will the staging of shows
Friedman suggests some designers are already beginning to audition models for video. "One designer I know is so focused on live streaming that she casts models according to how they look on camera as opposed to how they look in person when they walk," she writes in the February 8 column.
One nameless source does not make a trend, but it's easy to see how this would be true if more people start watching runway video, especially if the production cycle changes so a significant number of consumers buy outfits while they're watching the shows stream live.
The audience for runway video is growing. Last season, writes Friedman, IMG, the company that produces New York Fashion Week, opened its live-stream of the shows up to the general public. (It used to only be available to editors and buyers.) When it did, 165 percent more people watched the shows remotely than attended fashion week in person.
Those people are hard-core addicts. But e-commerce sites and magazines are selectively using runway video, too. And its popularity makes intuitive sense. We're used to TV shows like Project Runway that put fashion on film for a mass audience. And we already know the Internet likes to look at photos of pretty, skinny ladies in funny dresses and pants. Why wouldn't it like to look at video of pretty etc. in etc. etc. etc.?
What makes a body beautiful in person sometimes makes it look great on film -- but sometimes not. Some models have a beautiful, fluid walk, but don't look as great in still photos or video. Speaking very roughly, a runway model is a great gliding clothes-hanger, while an editorial (i.e. ad and magazine) model has a great set of bones to photograph. Some models do both, but models who walk better than they film may lose their livelihoods if designers start casting for video. (Here's another thought -- if the camera adds ten pounds, does that mean models will face even more pressure to be thin?)
Along the same lines, runway shows may become more spectacular, less about presenting clothing for editors to write about and stores to buy, and more about entrancing a popular audience. Friedman explains how it might be so:
The public live streaming reinforces the perception of shows as Shows, broadly defined: something you tune into or out of at will, something that are less about business than pop culture. But pop culture (whether we are talking reality TV or music videos) requires ever more extreme versions of itself to catch the viewers' eye.
The end of seasons in clothing
What was once a strict fall-winter/spring-summer production cycle has over time drifted into a set of nebulous zones like pre-fall, pre-spring, resort, cruise, etc. This breakdown of the traditional fashion calendar has been going on for years, but Horyn suggests the rise of video will accelerate it.
Websites like Moda Operandi live-stream runway shows and allow viewers to buy items from the shows at the same time (cutting fashion critics out of the process, by the way). If a seamless runway show and retail outlet becomes the norm, there will be no reason not to churn out as many collections as possible. You'll make more money, and the people who regularly shop for designer clothing love to feel they have the most up-to-the-minute thing.
Suzy Menkes now counts eight-plus collections per designer per year, where before most designers made two (maybe three, for designers who did a resort or cruise collection -- traditionally, a collection of warm-weather clothes that are released when it is cold, to appeal to vacationers.) As you can imagine, this can be extremely stressful for the people who make the clothes. They are under "pressure from fast fashion and from the instant Internet age to create new things constantly," she wrote last year, after the designer John Galliano temporarily ended his career by hurling an anti-Semitic insult in a bar.
The critics are envisioning a world where all fashion becomes fast fashion. Zara, the gargantuan mass-market clothing chain, has built its business on keeping its supply chain as short and fast as possible. It brings new designs into stores every couple of weeks. This lightning-fast turnover has generated tremendous sales. As Horyn observes, some luxury fashion brands appear to think they can profit from a similar acceleration into seasonless-ness -- if they can make it work.
No more Fashion Week, period
In one version of the video invasion, designers change and adapt their runway shows to video, but those shows are still semi-public events that happen a few times a year. In another version, Fashion Week disappears altogether. (Before New Yorkers start hate-streaming Vogue.com, they should consider that Fashion Week brings roughly $850 million to the city's economy, along with the extra traffic and the knobby, cab-stealing editors.) 
The more some fashion houses tailor their shows to video, and the more the production cycle accelerates, the less it will make sense to have a runway show at all. Eight runway shows a year is already pushing it. More than that? And producing a video is different than producing a live show. People don't visit film sets to see what the final cut of a movie will be like.
If live runway shows start to disappear, fashion writers will not be happy about it, and not just because it's a glamorous part of their job. Times columnist Suzy Menkes wrote about streaming the shows on her iPad when snow prevented her from getting to New York for the start of Fashion Week. "I ... felt uneasy about the difficulty of analyzing fabrics, recognizing true colors and allowing my own eyes to follow the pieces that interested me," she admits.
The clothes will begin to look really, really weird and ugly
Don't they already? you might say. Debatable, but if you don't like what you see, think about it this way -- things could get worse. Friedman offers a revealing anecdote:
I remember once talking with Giorgio Armani, who wasn't happy with a review I had written because I had criticised what he put on the catwalk (I said something like "no woman wants to wear bloomers"). Armani pointed out that back in the showroom he had lots of clothes that were perfectly classic, but everyone had said that they were too boring so he had to jazz things up a bit - hence the outré garments.
Trying to be spectacular, a designer showed ridiculous clothing. But when a writer -- a filter between the consumer and the designer -- asked, he had a back-up plan. Friedman worries that if video brings clothing directly to the people who buy it, we may not wind up looking nice. It's a good argument against video, and in favor of expert criticism.
The result was that [the clothes] looked weird on the catwalk, no question, but when I imagine transposing them to Netflix ... what will people without this kind of insight make of them? Why has no one made that connection yet? It's only a matter of time.
If you have up to now been reading this with schadenfreude, here is the place where fashion starts to affect you. The possibility Friedman raises is a problem for everyone who likes clothes, or for other people to look good in clothes -- not just for the people who can afford to buy them from Giorgio Armani -- precisely because retailers like Zara copy what designers show. If it is ugly and unwearable, there's a good chance the Zara clothes will be ugly and unwearable. And without experts to guide us, we may never know. The eye adjusts to trends, but sometimes it shouldn't (perms; parachute pants).
You could also make the opposite argument from Friedman. Critics also push designers to take risks when they're being bland -- to make fashion art, and push the industry forward, even if we don't want to wear the runway clothes ourselves. If video makes high fashion more consumer-driven, it could also make it really, really boring.
If you like to shop and don't want to be wearing bloomers (or taupe) in five years, hope that some of these people stick around to guard you from your own worst instincts.