How a Community College Dropout Discovered an Unknown Climate Hazard Right Beneath Our Feet
Bob Ackley has shown that America's cities are peppered with gas leaks -- so many that some scientists now believe that natural gas may be accelerating climate change in a way that few had ever suspected.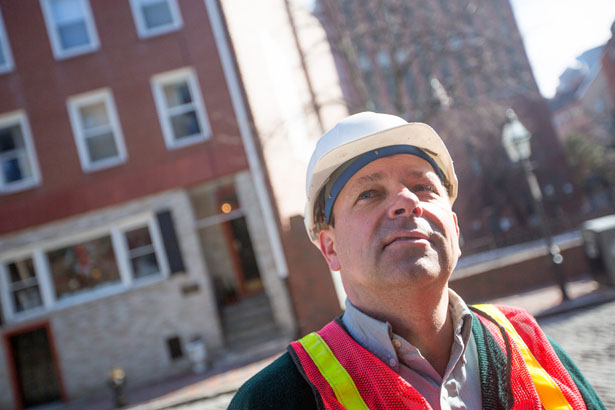 Bob Ackley still remembers the first time he found a gas leak. The son of a golf-course greenskeeper, he grew up in Northborough, a small suburban town close to Boston. It was 1979, and he had taken a summer job with a local company that mapped gas leaks for utilities. The country was reeling from the nuclear accident at Three Mile Island, Jimmy Carter was president, and My Sharona was playing on the radio as Ackley -- then just 20 -- sat in the passenger seat of a sky-blue Dodge Aspen.
His boss had the wheel. Roland Boucher was an older, heavy-set man with pale white skin and ruddy cheeks. A mess of electronics sat between the dashboard and front seat, with tubes connecting to a black box the size of a lunchbox. Just a few metres below them, encased in the soil, streets and yards of Massachusetts, natural gas mains and smaller service lines spread out like the bronchioles of a human lung. As his map flapped in the road-wind, Ackley focused on the instruments and tried to spot a leak.
Boucher told him to look up instead: "You look for dead trees, dead grass and dead shrubs." It seemed too crude, but a moment later Boucher swerved to the curb. A Norway maple stood in a patch of dead grass by the side of the road. The tree was also dying, its top branches barren twigs. The air held the foul odour of rotten eggs --mercaptan, a chemical added to natural gas to make it easier to detect leaks. Boucher poked around the roots with a steel bar and pushed the snout of a gas meter into the earth around the tree. The needle jumped: well over 20 per cent of the air in the soil was natural gas. The figure should have been less than one per cent. Methane was leaking from an underground pipe and seeping into the ground above.
They found half a dozen leaks that morning, and Ackley would find countless more in the years he spent driving across north-eastern America on contract for local gas companies. The pay was good, he enjoyed the travel, and the work was easy -- days often ended in the nearest bar. He abandoned his education when Mandy, a pretty young brunette he'd been dating, announced she was pregnant. The couple wed in 1982, and Ackley used his college savings for a down-payment on a house not far from where he had grown up.
Over the years he grew from a lithe, shaggy-haired kid to a stout thirty-something with a receding hairline. Afternoons once spent at the bar were now occupied by Little League games and caring for his eldest daughter, who has a mental disability. It wasn't quite what he'd envisioned for himself, but all things considered it was a good life: he and Mandy had three more kids, a home in the suburbs, holidays on Cape Cod each summer.
As time went on, however, something about his work bothered him. He couldn't help noticing that gas from some leaks would continue seeping into the soil for years after he reported them. Some were what the safety guidelines called grade three leaks -- minor problems that could safely be ignored. But many were grade two, meaning the leak was spreading closer to a home and needed fixing. One spring morning in the late 1990s, in the town of Winchester, Massachusetts, Ackley found a row of giant oak trees that were slowly dying from grade two leaks. He was pretty sure he'd reported the problem several years ago.
The next morning, Ackley knocked on the door of Joe Downing, an affable mid-level manager at the Boston Gas Company who oversaw the utility's regional leak survey. Downing was tall and slender, almost gaunt. Ackley remembers that everything in his office, from his desk to the steel bookshelf, was coloured in shades of Boston Gas blue. A plaque commending him for decades of employment hung on the wall.
Downing smiled as he waved Ackley into the room. They got on well, often walking down the hallway, past photos of the 19th-century Irish gas workers who had laid the region's cast-iron gas pipes, to the cafeteria, where they would curse the New York Yankees over coffee. But Ackley remembers the conversation turning frosty when he mentioned the Winchester leaks. Downing said they were grade three; Ackley replied that he'd listed them as grade two. He described the trees: withering, gnarled old oaks with trunks nearly a metre thick, standing in soil that was full of natural gas. "That's not grade three," Ackley said. Downing stood up, signalling that the meeting was at an end.
Around the same time, Boston Gas and other utilities began replacing the existing classification scheme with guidelines of their own. No laws were being broken, since the regulatory scheme was only a suggested method, and a weak and vague one at that. But under the new system, tree damage was no longer a factor: damage to vegetation could be noted, but it would not change the classification. (Downing died in 2002; Boston Gas declined to comment on its specific leak policy, but a spokesman noted that leaks that present potential public safety risks are addressed immediately.)
Friends and neighbours told Ackley that he should take action against the gas companies for the damage that leaks were doing to trees. But he was less sure. After all, whenever he found a leak that was genuinely dangerous, the utilities fixed it. And he had an easy job that paid well -- the last thing he wanted was to make waves. "I knew it was wrong," Ackley said recently, looking back, "but what was I gonna do?"
---
This is an exclusive extract from Uprising, the new article from MATTER, an online publisher focused on long-form science and technology writing. Visit readmatter.com to purchase the full article.