DOE Chief Steven Chu Makes It Official: He's Stepping Down
His legacy, however, is unclear.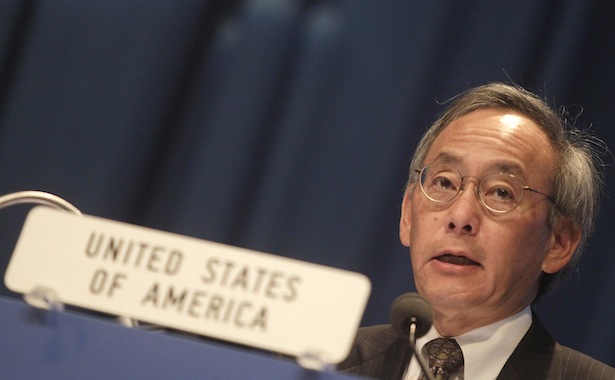 It's different on the way out.
Nobel Prize-winning physicist Steven Chu is, as expected, stepping down from the top post at the Department of Energy. He'll stick around until a successor is chosen and then, I assume, head back out here to the Bay Area and Lawrence Berkeley National Laboratory.
Politico broke the news, getting a hold of (or being sent?) the memo Chu emailed to his staff.
After some tough years under the Bush administration, Chu's selection buoyed hopes among scientists that the Obama administration was serious about funding good science to deal with climate change, an infrastructure built on cheap oil, and the relatively slow pace of energy technology improvement over the past few decades.
He leaves having presided over a huge but temporary boost in energy science fundingt, a boom in natural gas production, the BP oil spill, the creation of ARPA-E for high-risk research, and the overblown bust of a few companies like Solyndra. Republicans blocked efforts to pass climate legislation, but that can't really be counted against Chu.
Though the stories tended to be short of specifics, the narrative in Washington became that Chu was a political naif, even though he was a brilliant guy and competent administrator. I wondered if he could ever have been painted otherwise, given his background and the state of play in energy politics. Despite Chu's support for nuclear and solar energy, in Congress, supporting solar is for Democrats and nuclear is for Republicans. Coal state representatives support the coal agenda and the same goes for wind. One guy, no matter how smart, isn't going to change these structural divisions. At the very least you can say he survived Washington longer than any previous Department of Energy head, which is something.
One sign of what the Obama administration thinks about Chu's tenure will come when his successor is selected. Darius Dixon gave this short-list of candidates for his replacement:
Obama has not yet announced a successor, but speculation in Washington has focused on a short list that includes former North Dakota Sen. Byron Dorgan, former Colorado Gov. Bill Ritter, former Washington Gov. Chris Gregoire and former Michigan Gov. Jennifer Granholm.

Other people who have gotten recent buzz include Ernest Moniz, a physics professor at the Massachusetts Institute of Technology who served as DOE undersecretary in the Clinton administration.
I can't evaluate how accurate this list is. National Journal's Coral Davenport had a similar, but slightly different list: Dorgan, Ritter, Gregoire, and then ex-Googler Dan Reicher and the Center for American Progress' John Podesta.
Let's say both lists encompass what the administration is thinking. We've got two natural-gas state politicians, two other northern-state politicians, a Google policy wonk, a Washington think tanker, and a single academic. And Moniz, for his part, has been a part of public life for a long time. None of these folks has a Chu-like profile.
Nonetheless, I'm not sure we know yet what Steven Chu's legacy will be. Or to rephrase: I certainly don't. He was given a monumental task of distributing $35 billion dollars to energy projects through the stimulus package, and though the disbursements weren't perfect, they seemed, to an outsider, to be the mix of "shovel-ready" (remember that term?) projects and longer-horizon research that you'd expect. Who knows what fruits the seeds planted during his tenure will bear?