Columbia's Astronauts, Remembered on Mars
Seven hills for seven explorers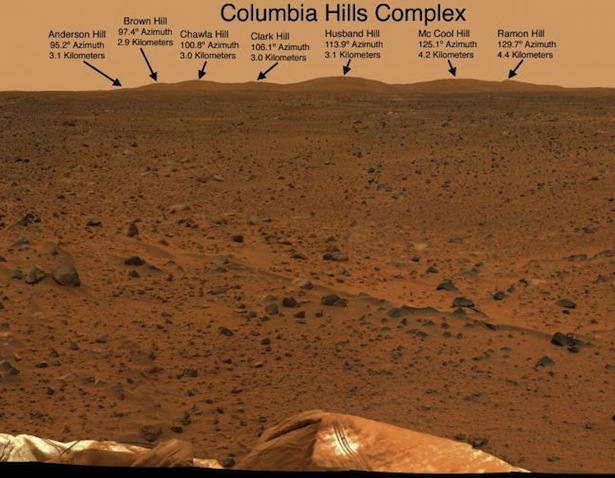 NASA/JPL/Cornell
The best way NASA knows how to pay tribute to the people it has lost in the name of discovery is simply to keep on discovering. But the second-best way is the more formal way, the more traditional way: to keep the names of the fallen fresh in the minds of the living, so that we might be reminded of their accomplishments and sacrifice.
When it comes to commemorating the crew of the space shuttle Columbia, NASA found a way to pay both kinds of tribute, and at the same time. On February 2, 2004 -- a year and a day after seven astronauts perished as their shuttle broke apart in the Texas sky -- the agency announced the names of a series of seven hills. There was Anderson Hill, named for Columbia mission specialist Michael Anderson; Brown Hill, for mission specialist David Brown; Chawla Hill (mission specialist Kalpana Chawla); Clark Hill (mission specialist Laurel Clark); Husband Hill (mission commander Rick Husband); McCool Hill (pilot Willie McCool); and Ramon Hill (mission specialist Ilan Ramon).
Making the designation more appropriate was the fact that the hills happened to be located on Mars.
The astronauts' namesakes are situated within the Red Planet's Gusev crater, about two miles away from where the Mars Exploration Rover Spirit landed in 2004. And they were, for the rover and its earthly audience, the most striking feature on the observable Martian surface. Spirit would go on to spend several years exploring the Columbia Hills until, struggling in the Martian soil, it would finally cease to function in 2010. Which -- striving and striving, until you can strive no more -- seems an appropriate tribute to seven people who gave their lives so that the rest of us might forge ahead.
Via @elakdawalla