When We Blew Up Arizona to Simulate the Moon
In the late 1960s, NASA created an offworld analogue with dynamite and fertilizer bombs outside Flagstaff, Arizona, so that astronauts could train for the Apollo missions.
In the late 1960s, NASA created an offworld analogue with dynamite and fertilizer bombs outside Flagstaff, Arizona, so that astronauts could train for the Apollo missions.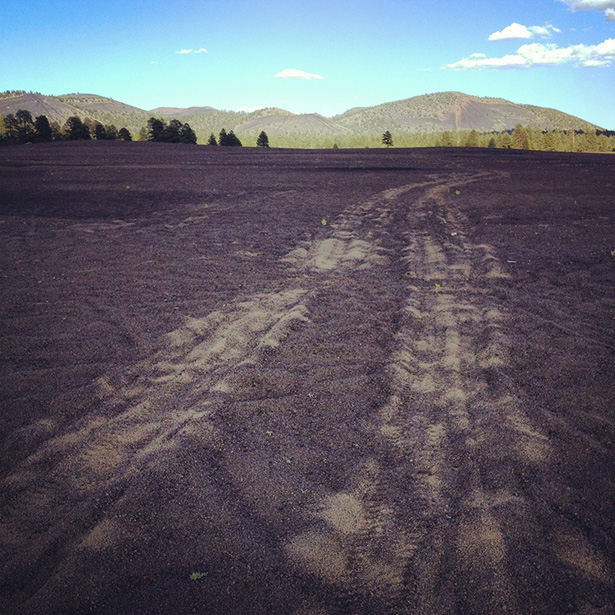 Thanks to a well-timed tip from landscape blogger Alex Trevi of Pruned, Venue made a detour on our exit out of Flagstaff, Arizona, to visit the old black cinder fields of an extinct volcano--where, incredibly, NASA and its Apollo astronauts once practiced their, at the time, forthcoming landing on the moon.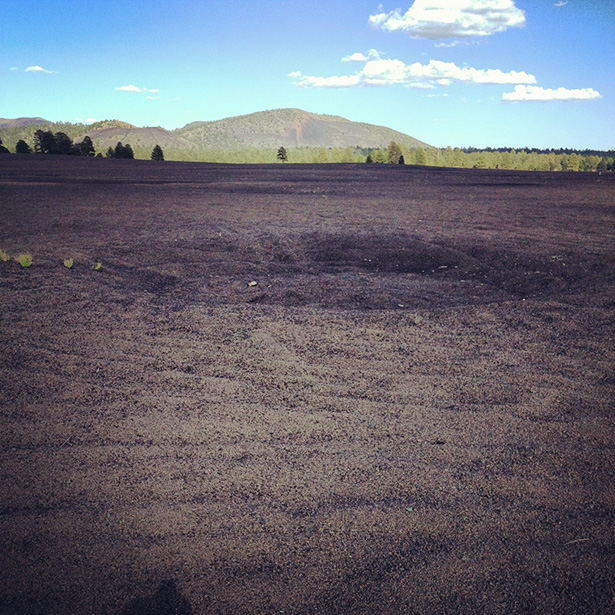 The straight-forwardly named Cinder Lake, just a short car ride north by northeast from downtown Flagstaff, is what NASA describes as a lunar analogue: a simulated offworld landscape used to test key pieces of gear and equipment, including hand tools, scientific instruments, and wheeled rovers.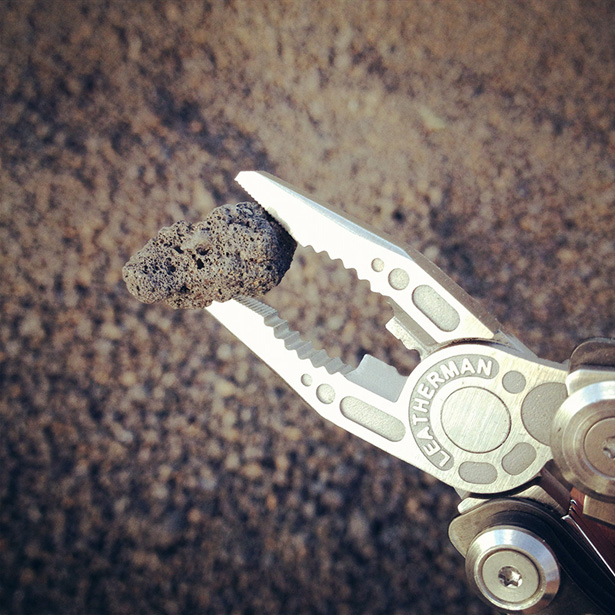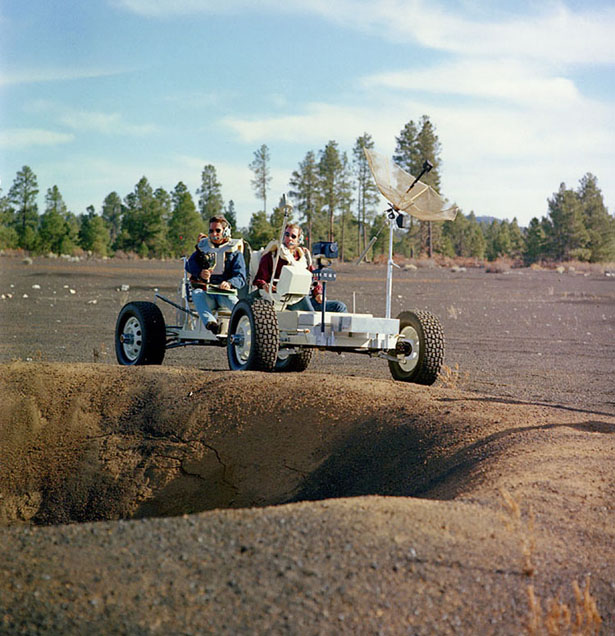 As Northern Arizona University explains, NASA's Astrogeology Research Program "started in 1963 when USGS and NASA scientists transformed the northern Arizona landscape into a re-creation of the Moon. They blasted hundreds of different-sized craters in the earth to form the Cinder Lake crater field, creating an ideal training ground for astronauts."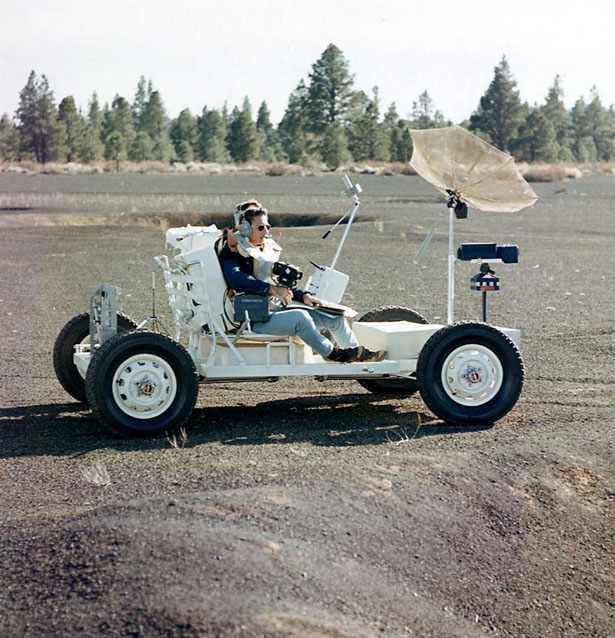 The sculpting of the landscape began in July 1967, with a series of carefully timed and very precisely located explosions.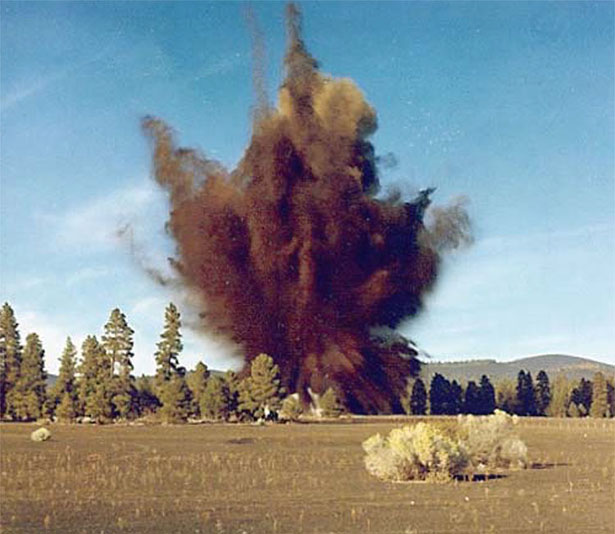 In the first round alone, this required 312.5 pounds of dynamite and 13,492 pounds of fertilizer mixed with fuel oil.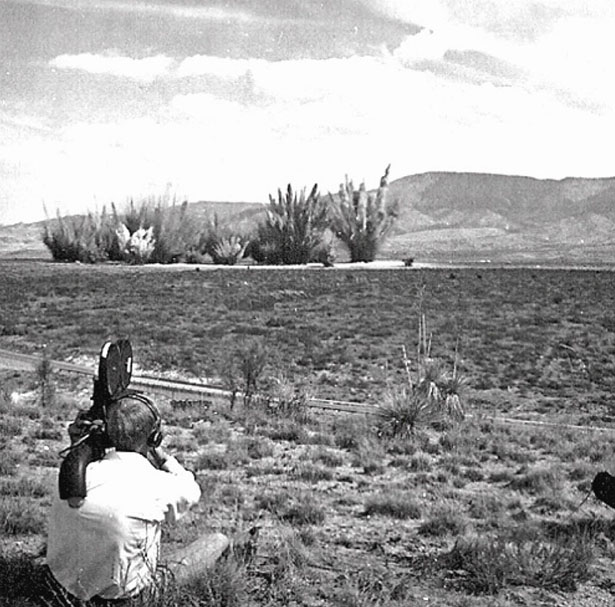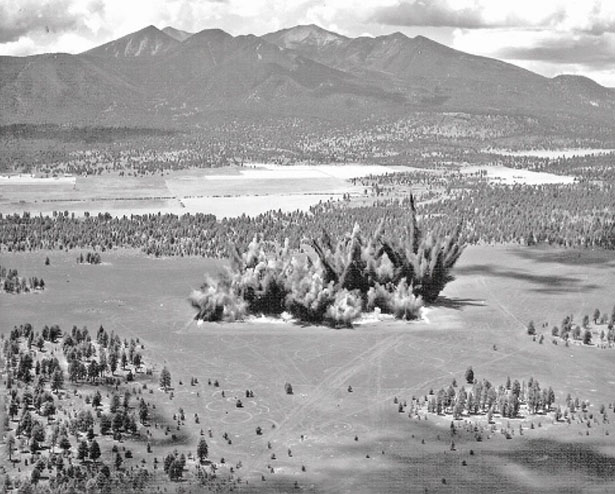 At the end of a four-day period of controlled explosions, USGS scientists had succeeded in creating a 500 square foot "simulated lunar environment" in Northern Arizona--forty-seven craters of between five and forty feet in diameter designed to duplicate at a 1:1 scale a specific location (and future Apollo 11 landing site) on the moon, in a region called the Mare Tranquillitatis.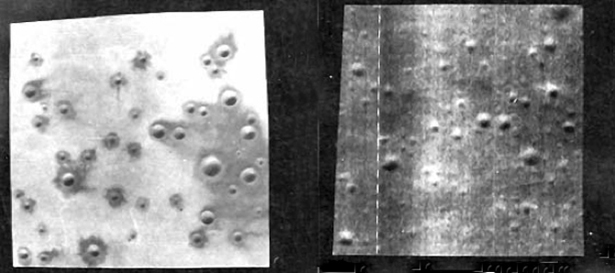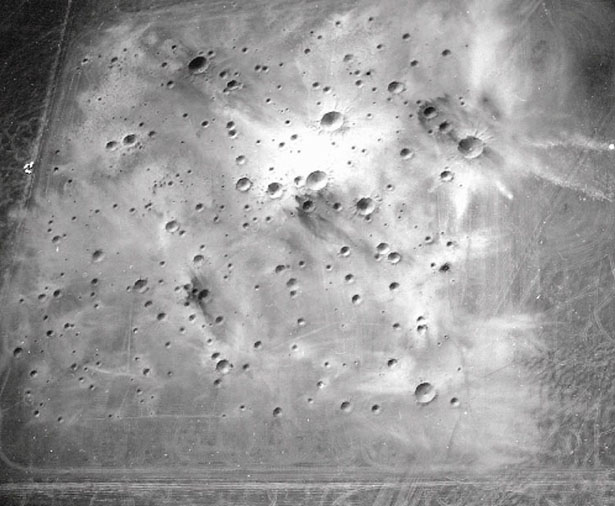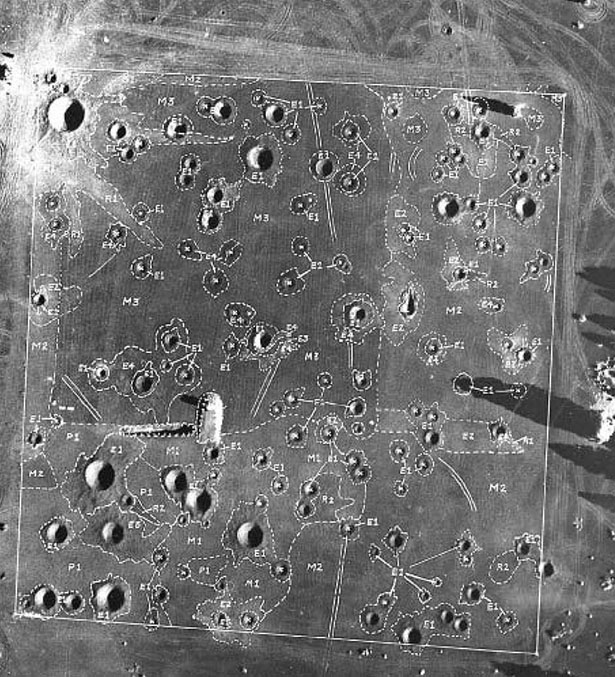 Sadly, the craters today are very much reduced both in scale and in perceptibility.
Indeed, at a certain point nearly every dent and divot in the landscape began to seem like it might also be part of this monumental project of planetary simulation, a possible detail in the stage-set used to rehearse hopeful astronauts.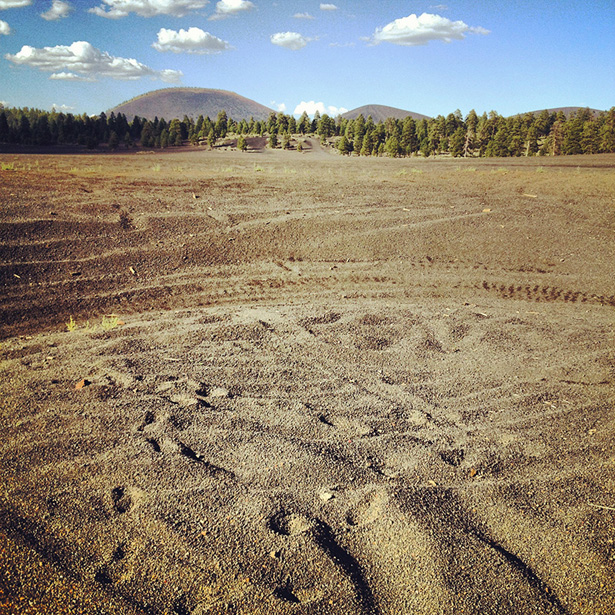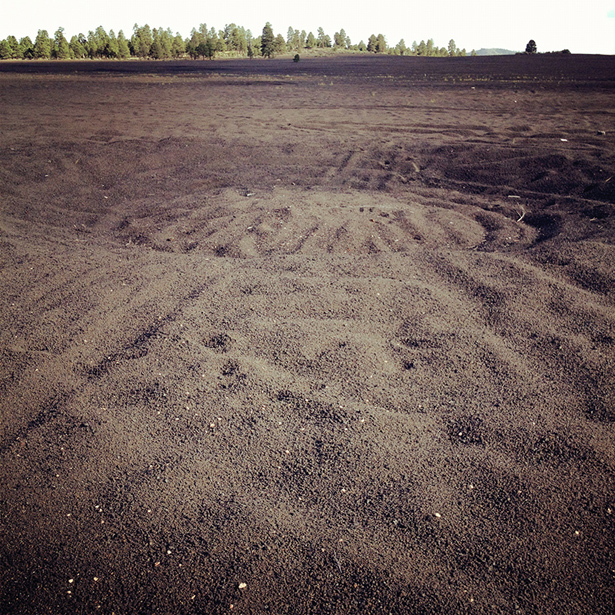 This pronounced fading of the craters is due to at least two things.
One factor, of course, is simply long-term weathering and exposure in the absence of any plans for the historic preservation of the site.
As we'll discuss in a future post in relation to another of Venue's visits -- specifically, to see the so-called "Mars Yard" at the Jet Propulsion Laboratory in Pasadena -- these sites of offworld simulation are intellectually thrilling but also integral parts of the U.S. national space project.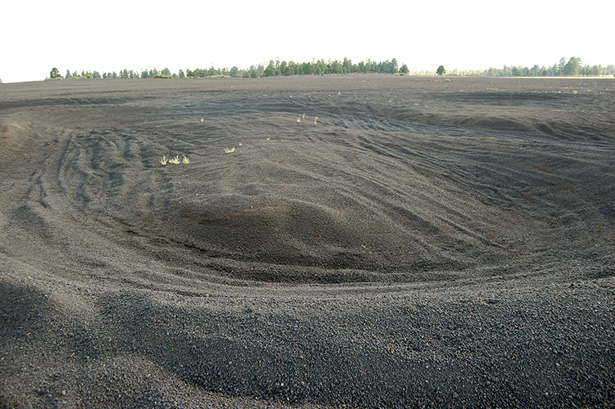 That these locations--works of scientific utility, not art--can be discarded so easily is a shame, although exactly how, and under what departmental authority, they would be preserved is a thorny question.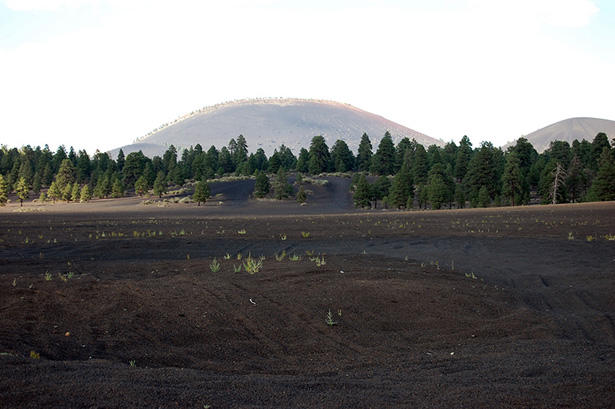 Of course, all questions of budget or federal jurisdiction aside, an Offworld Landscapes National Park or National Monument is an incredible thing to contemplate.
A National Park--or, why not, a UNESCO Offworld Heritage Site--that consists only and entirely of landscapes designed to simulate other planets!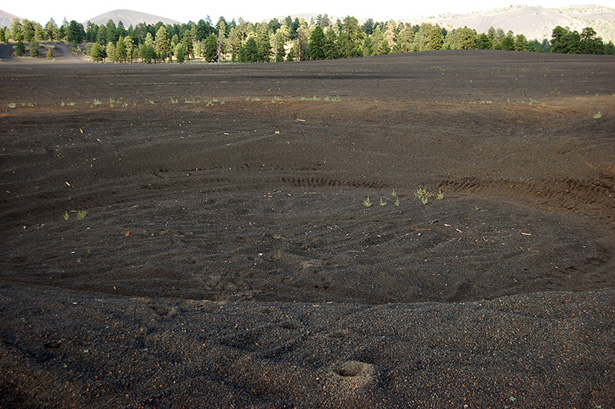 In any case, the other major factor in the craters' gradual disappearance is Cinder Lake's current recreational status as a place for off-road vehicles of a much more terrestrial kind.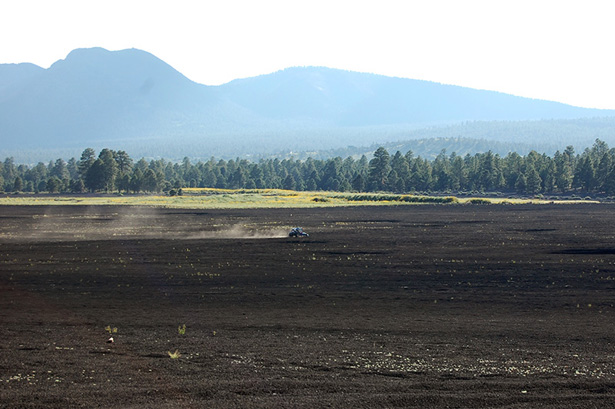 Indeed, for much of the two hours or so that Venue spent out on the volcanic field--where walking is very slow, at best, as you sink ankle-deep into tiny pieces of black gravel that make a sound remarkably like dipping a spoon into dry Ovaltine--distant bikes, buggies, and trucks kicked up dust clouds, giving the landscape a distinct and quite literal holiday buzz.
Oddly, though, it's hard to complain about such a use, as this is more or less exactly what NASA was doing, albeit with taxpayer support, better costumes, and a much larger budget.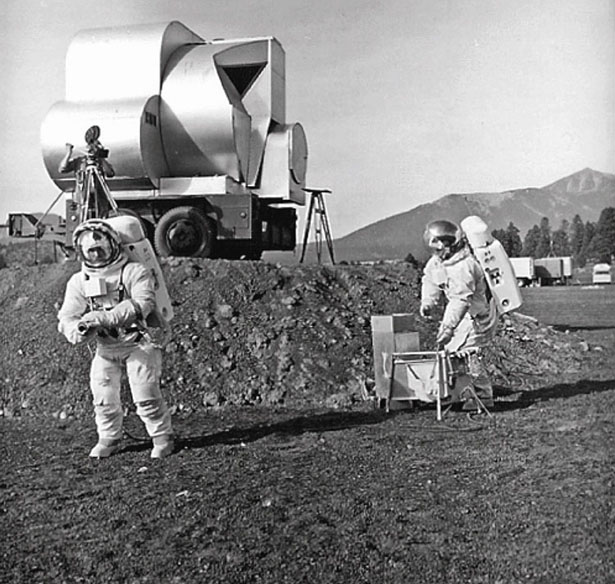 As Northern Arizona University goes on to describe, the astronauts "ran lunar rover simulations and practiced soil sampling techniques wearing replica space suits in the shadows of the San Francisco Peaks. The training gave them the skills essential for the first successful manned missions to the Moon."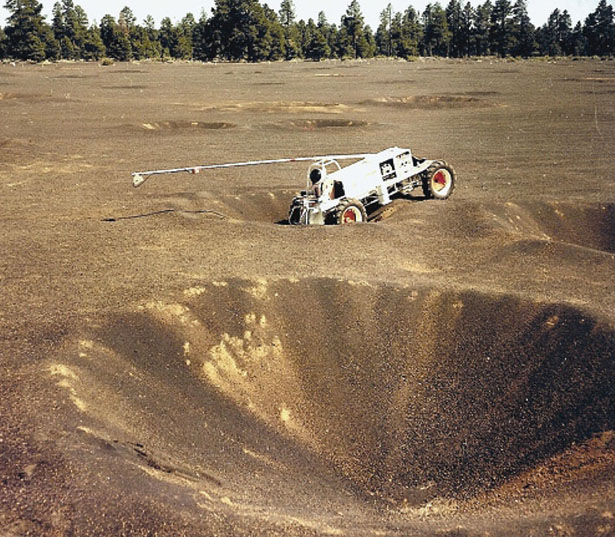 Off-road to off-world, by way of a black lake of pumice on the outskirts of a college town in Arizona.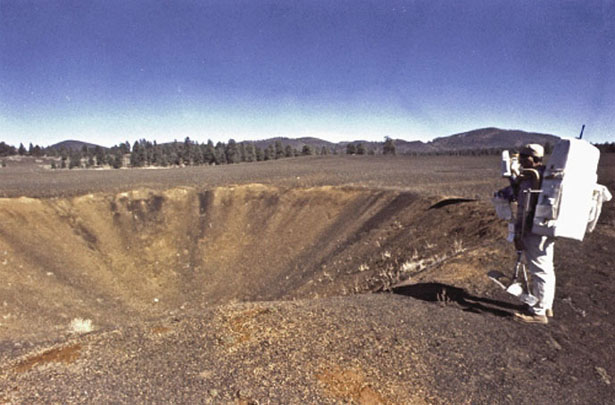 Better yet, you can visit the lake quite easily; here is a map, with driving directions from the best breakfast in Flagstaff.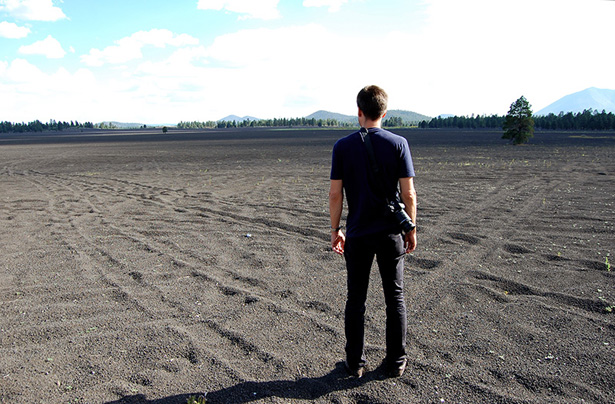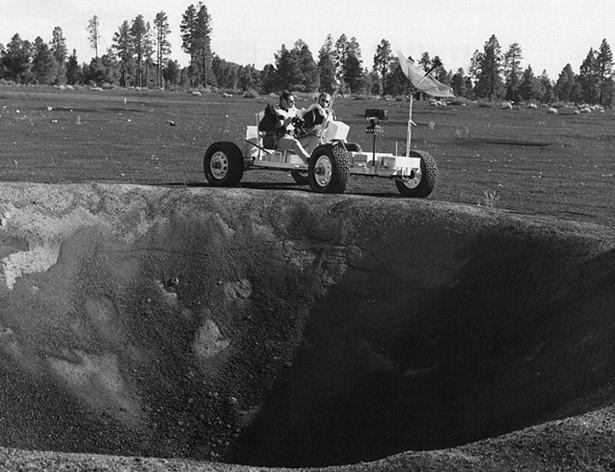 This post was originally published at V-e-n-u-e.com.