When Stephen Hawking Went to the White House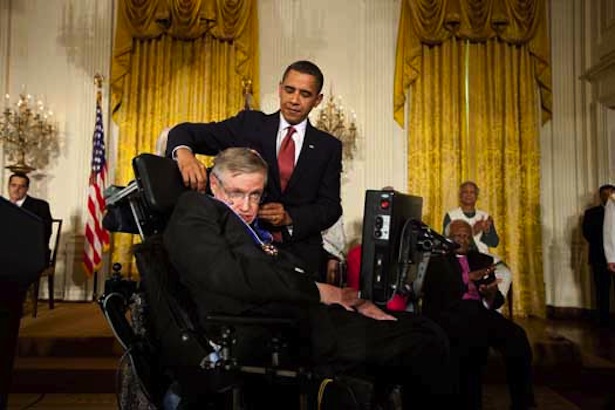 White House
On August 12th, 2009, President Obama awarded the Medal of Freedom to Stephen Hawking. "From his wheelchair he's led us on a journey to the farthest and strangest reaches of the cosmos," the president noted as he bestowed the award -- the United States's highest civilian honor -- on the physicist, cosmologist, and author. "In so doing he has stirred our imagination and shown us the power of the human spirit here on Earth."
While at the White House to accept the award, Hawking gave a brief acceptance interview to mark the occasion, discussing curiosity and knowledge, exploration and discovery, limitation and ignoring it. Now, in honor of the professor's 71st birthday, the White House is sharing never-before-seen footage of that talk. "The thrill of discovering something no one knew before is like nothing else I know," the professor says in the video below. His body may be challenged, Hawking notes; but his ailment -- ALS, also known as Lou Gehrig's disease -- has not limited him. "It has not prevented me from exploring the universe with my mind," Hawking says, "or having three wonderful children."
Via Steve Silberman.