Study: Facebook Is Your Frenemy
Facebook is stressful! Also, we love it.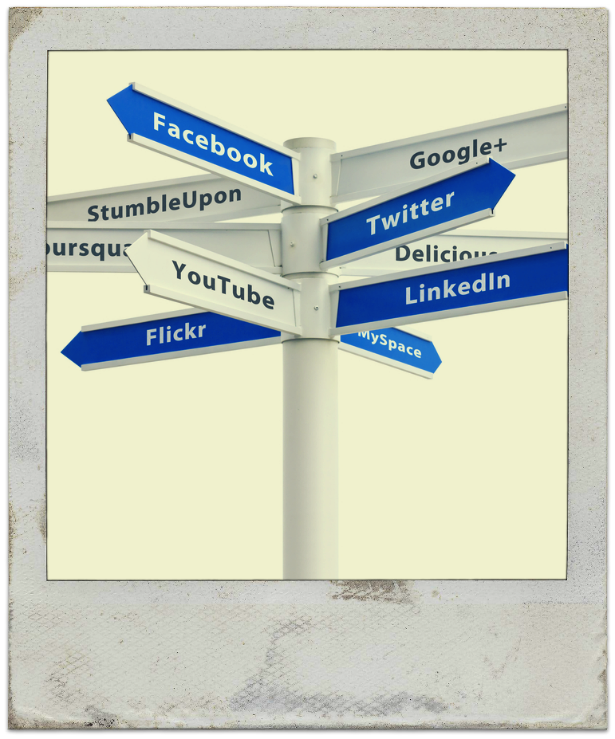 Facebook is terrible. But Facebook is, at the same time, wonderful. We love it, we hate it. We love to hate it, hate to love it, etc. It is our best friend. It is our worst enemy.
Facebook may be friending the world, in other words, but it is also frenemy-ing us, one click at a time. This, according to new research from the Skype-like service Rebtel, which regularly surveys its users about their habits. The company recently queried U.S. users aged 18 and older, garnering responses from 1,632 mobile device owners. Among its questions: What social networking sites cause you the most stress? Which have the most negative effect on your mood? Which have the most positive?
The survey's major finding was unsurprising: Most social networks seem to have very little negative effect on those users' overall moods or stress levels.
However: Of the users who did implicate social networks in stress and general mood changes, the overwhelming majority of them pointed their collective fingers at one network in particular: Facebook. Asked "what social network causes you the most stress?," 18.4 percent of Android users and 21.4 percent of iPhone users replied, "Facebook." By comparison, the next-most-named network, Twitter, was called out by only 5.9 percent of Android users and 4.4 percent of iPhone -- and the next-most-named, LinkedIn, clocked in with 4.0 percent and 3.2 percent of users, respectively.
Here are the Rebtel results for "negative effect on mood," charted (the spike you see on the right represents the percentage of people who responded, "none have an effect"):

Similarly, Rebtel asked its respondents about stress. And again, the vast majority of people said that social networks have no meaningful effect on their stress levels. But -- also again -- the vast majority who claimed an effect listed Facebook as the culprit. This time, 18.8 percent of Android users and 20.3 percent of iPhone users blamed Facebook as a stressor, compared with 3.6 percent/2.9 percent for Twitter and 2.6 percent/3.3 percent for LinkedIn.
Charted, that looks like:

HOWEVER. Rebtel also asked users about social networks' positive effects on mood. And in that case, Facebook was also the clear winner over other social networks -- and even over the "no effect" category. While only 20 percent or so of users listed "no effects" for social networks' ability to happy-make, a whopping 47.9 percent of Android users and 44.9 percent of iPhone users listed Facebook as the social network that has "the most positive effect on your mood."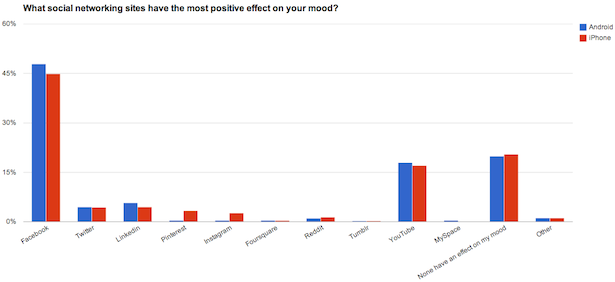 So Facebook taketh away, but Facebook giveth, too. It may frustrate us -- by encouraging us to have too many "friends" through its service, by inspiring envy of said friends, by creating yet another thing to fill and take our time. But it also brings us, it seems, some measure of joy. Or at least happiness. Or at least distraction. Or at least some kind of social or psychic benefit. All the stuff that, despite Facebook's drawbacks, keeps us coming back, day after day, for more.