Stealth Wear: An Anti-Drone Hoodie and Scarf
No, really, this garment might fool the infrared cameras mounted on drones.
Continuing his run of fascinating art that plays with thwarting the technological tools of the surveillance state, Adam Harvey has released a new collection of "
counter surveillance garments and accessories
." Called Stealth Wear, the line is a collaboration with fashion designer Johanna Bloomfield.
Launched in London yesterday,
a city blanketed by police cameras
, the garments nominally are "anti-drone," in that they reduce one's thermal profile, which can be seen in the infrared part of the electromagnetic spectrum. The infrared cameras mounted on drones, therefore, can see the heat of bodies, even in the dark.
Harvey sent me over some images that he took using a FLIR SR-series infrared camera. The images in the middle are what the camera normally produces; the images on the right are false color, so you can see the temperature gradient. The garments certainly do change your heat signature, though perhaps not enough to evade detection totally.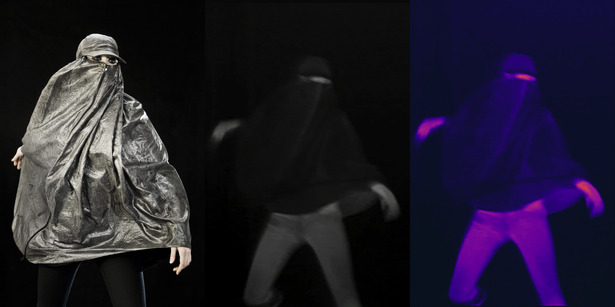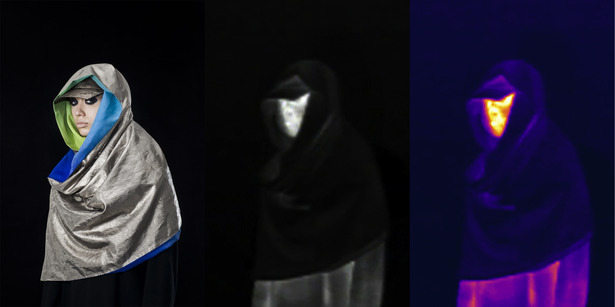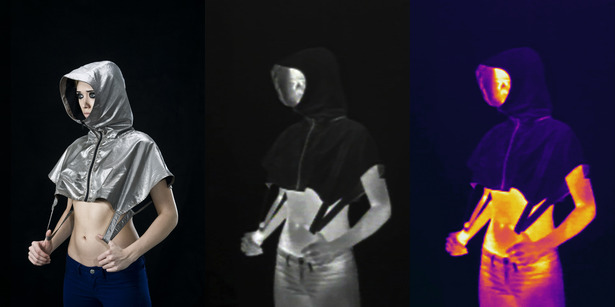 Harvey made international headlines last year for his suggestion that "
dazzle camouflage"  facepaint
 could confuse facial-recognition systems. He attended NYU's ITP program, which has produced too many awesome projects to count.