Starting Now: Live Coverage of the 'Doomsday Asteroid' Flying by Earth
See the thing pass us by -- for free, on the Internet.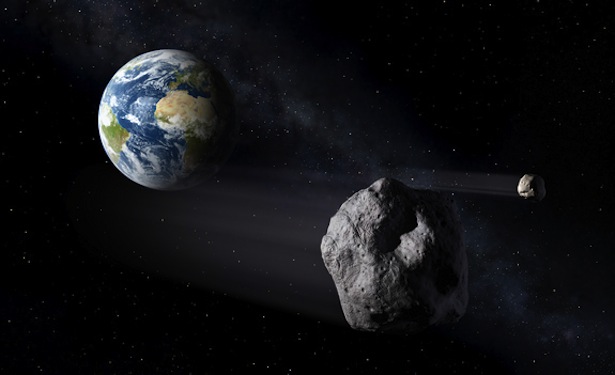 The asteroid Apophis has long been referred to as the "doomsday asteroid," in part because humans like melodrama, but in part because a 2004 study estimated that the thing had a 2.7 percent chance of colliding with Earth in the not-too-distant future of 2029. That low-but-still-alarming probability has, fortunately, since been disproven; but it hasn't squelched our fascination with the 1,066-foot-wide space rock. And tonight, Apophis will pass us by -- at a relief-inducing distance of 9.3 million miles from Earth.
And: You can watch it as it makes its pass! For free! Online! Two separate webcasts, offered by the websites Slooh Space Telescope and Virtual Telescope Project, will capture Apophis as a bright light moving across the night sky. And since Apophis is too small to be viewed through small personal telescopes, this is likely the best chance you'll have to see the "doomsday asteroid" in action. Fortunately for all involved.
You can watch it here, starting at 7 p.m. EST:
... Or here, starting an hour later:
http://www.virtualtelescope.eu/webtv/