Ranking the Worst and Less-Worse Social Media Titles
Maven. Ninja. Evangelist. Guru.
Shudder.
Here are the complete rankings: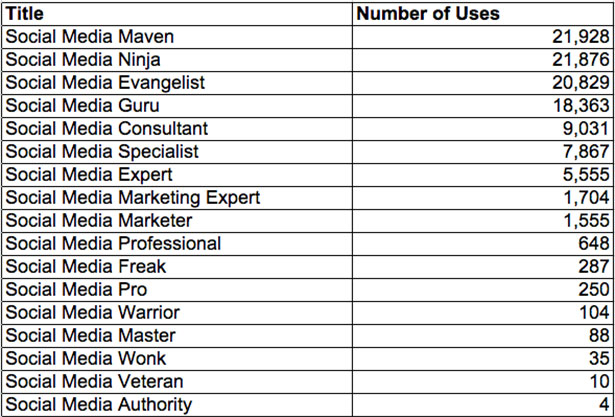 I look at this list and I see two competing strategies. One is all business -- consultant, specialist, marketer, professional -- the other is Play It Cool. I've been hoping that as social media matures and the markets for SM services grow, we'd see a switch from the friendishness (yes, I made that word up) of ninja and evangelist to the more corporate titles. So far, though, that's not happening. Maven, ninja, evangelist, and guru are all more than twice as common as any of the businessy names.
In case you were wondering, I do, in fact, have my own rankings. I favor the forthright:
Specialist > Marketer > Professional > Consultant > Marketing Expert > Pro > Veteran > Freak > Authority > Evangelist > Master > Ninja > Warrior > Maven > Guru > Wonk.