Michelle Obama Is on Twitter (Again)
Happy birthday, Mrs. Obama! Here's a new Twitter feed.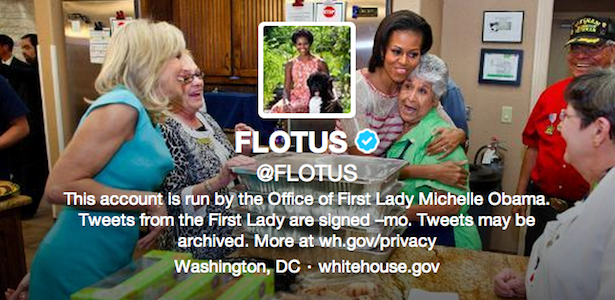 Twitter.com/flotus
Today is Michelle Obama's birthday. By way of gifts to celebrate the occasion, the First Lady is getting the present that is all the rage among the newly-49-year-old lawyer/mom/wife/advocate set: a new Twitter feed.
Yep: Mrs. Obama is now, officially, on Twitter -- not as herself, but as the First Lady. The @flotus account launched just after 11:30 this morning with the following message:
The nascent account follows, tellingly, the White House, the office of Joe Biden, the Department of Education, the Let's Move campaign, and several branches of the Armed Services -- making @flotus's follows so far a fairly accurate representation of the First Lady's causes and public persona. And offering even more evidence that, increasingly, a public persona requires a Twitter account.