London's Tube Is Getting 'Contactless' Payments. Could They Work in the U.S.?
Could public transportation help new payment technologies enter the mainstream?
Could public transportation help new payment technologies enter the mainstream?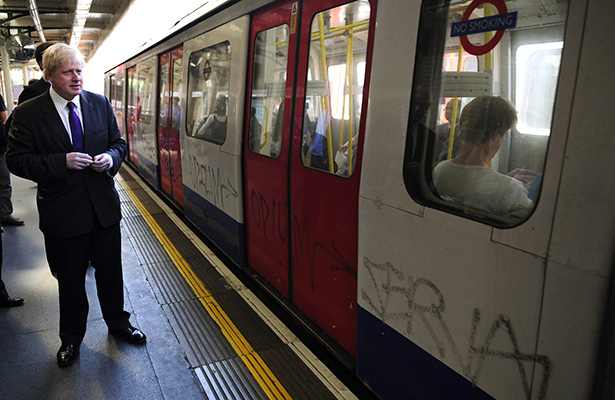 London's transit agency, Transport for London, announced the rollout of contactless credit card readers on all of the city's 8,500 buses last month, allowing riders to charge their bus fare directly to their bank accounts. Previously, Londoners had the option of paying a discounted fare with a prepaid Oyster card or handing over an extra pound and paying in cash.  Now, anyone with one of Britain's 30 million contactless credit cards can avoid being one of the daily 36,000 people who "[dash] to board a bus only to discover that [their] Oyster card has run out of credit" and then have to "scrabble for change" and pay a higher fare, as London's Mayor Boris Johnson press release explained. Transportation for London expects that Londoners will be able to use this technology on the underground Tube and aboveground trams by the end of 2013.
In theory, this is exciting news for London commuters who loathe change-scrabbling, but even more so for credit card companies, who will now ostensibly have access to data about where and when people are traveling to different parts of the city. In practice, however, this will be an interesting test case for the future of contactless payments in public transportation systems, particularly in the U.S. Will public transit riders really use contactless credit cards enough to meaningfully change the way that people pay for their transportation? And what can and will credit card companies do with the resulting data?
To answer these questions, a quick primer in credit-card speak is necessary.  First, because contactless credit cards don't require a pin number or signature -- or even the time it takes to remove the card from a wallet -- the "contactless" part is only usable for small purchases: the limit is £20 in the UK and $20 in the U.S.  Each card has an embedded chip which detects card readers without having to be tapped or swiped, as long as they are only one or two inches away. The chip technology that enables contactless purchases was created as part of a wider effort by Eurocard, Mastercard, and Visa to do away with magnetic strip credit cards; according to proponents of the technology,

"EMV" chip-based cards are more secure

than regular cards and could eventually carry multiple applications, like having a credit and debit card function on one card. (The broader set of 'contactless' technologies fall into the realm of near-field communication, often abbreviated as NFC.)
Figuring out how widely used contactless cards is tough. According to the UK Card Association, more than 30 million contactless credit cards had been issued in the country by the end of September 2012, and, not counting London's 8,500 newly-updated buses, more than 135,000 payment terminals have been installed. A

report released in May

by an independent research firm, though, indicated that only five percent of Brits have ever made a contactless payment, and millions of credit card users were "unsure" about whether their card had the technology. And though Visa tried to spark the contactless revolution during the 2012 Summer Olympics,

the results were limp

: the company admitted that only 150,000 purchases had been made with contactless cards during the Games. Moreover, according to a survey conducted by an ATM operating company, 55 percent of Brits indicated that

payment hiccups

during the 2012 Games made them less likely to support a "cashless economy," which is exactly the future that many contactless card proponents envision. 
In the United States, the story of contactless credit cards has unfolded a bit differently, and it doesn't seem likely that New York or D.C. are going to roll out direct credit card payments on buses or underground rail systems any time soon. Card companies and banks have introduced test markets for contactless cards in a few areas, like New York City, Atlanta, and Denver, and card companies report that millions of cards with contactless capabilities have been issued; but of the more than 5 million businesses in the United States, only 30,000 have the equipment required to accept contactless payments. Although the penetration of EMV chip technology has been slow in Europe, it has been even slower in the United States, and over the past year or so, almost every major credit card company has released an official plan of action for jumpstarting the use of the technology.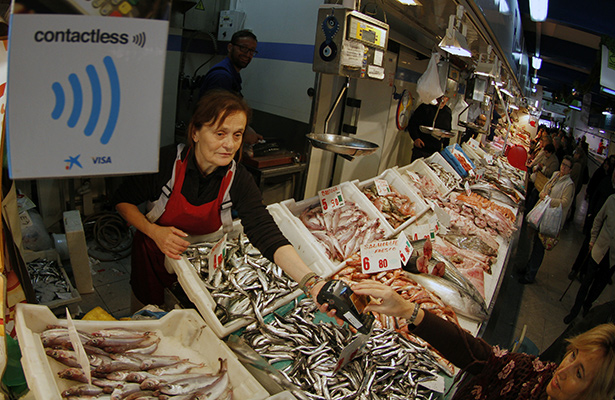 Here in the U.S., companies like Square, which sells a unique card reader that can automatically detect and take payments from any mobile device with its app, have also been making a splash in the market, albeit not in Kenyan proportions. In November, Square

announced via Twitter

that they're now seeing more than $10 billion dollars in transactions being made through their service, which does not even include the transactions that will be generated thanks to the company's

new deal with Starbucks

.
But for now, the idea that contactless payments would become mainstream enough to be used  for public transportation is still far-fetched. Although London officials have tested out mobile payment prototypes for the underground several times, none have taken hold; the most recent effort was rejected because the NFC technology it used 

was deemed too slow

.  In the mobile gadgets world, debates have raged about NFC, which uses radio waves to let devices -- like two smart phones, or, potentially, a smart phone and a digital cash register of some sort -- communicate instantly. Critics say the technology does not improve efficiency enough to gain widespread popularity, and unless it is used in a broad ecosystem of consumers and businesses, it won't make noticeable changes in the mobile payments space.  
Perhaps there's a future for Silicon Valley companies like Square in San Francisco's public transportation system (which happens to be in particular need of technology overhaul), but it's a future that will likely take a long time to come. In the fall of 2011, New Jersey Transit became one of the first transit authorities in the U.S. to accept Google Wallet and other forms of contactless payment at certain bus stations, which expanded to the Port Authority in 2012. According to a spokesperson, they see around 10,000 contactless "taps" per month, which could be payments for single or multi-fare transactions.  But across 12 rail lines, 260 bus routes, and three light rail systems, NJ Transit serves just under 900,000 customers per day, and while they are in "testing phases related to contactless payments," a full-scale roll-out is a distant possibility.  (Excitingly, Boston has just introduced a new system of mobile ticketing --

see more details here

.)
Regardless of the path that U.S. mass transit systems ultimately take to make their payment systems more efficient, those changes seem to be in everyone's best interest: in a perfect world, in which a contactless or mobile payments ecosystem has been well-established, these kinds of payment systems would significantly decrease the inefficiencies of current fare systems.  Costs associated with operations like producing and maintaining card machines and even transporting and counting hundreds of thousands of coins every day would be virtually eliminated.
And what might make capturing those efficiencies more attractive? The amount of data that could be gathered and directed toward targeted marketing is staggering.  According to 2011 data from the U.S. Census Bureau, the average public transportation user spends 95.4 minutes commuting every day, and this represents only a percentage of the total time Americans spend on buses, trains, and underground rail. If even a small chunk of riders started using contactless cards or mobile payments to pay for the bus, credit card companies or start-ups like Square would gain access to daily information about when and where their customers are traveling. Harnessed correctly, this kind of data could be used to tailor advertising to fit a subway rider's morning commute perfectly -- who wouldn't use a coupon for coffee at the Cosi near Dupont Circle if it popped up on their phone as they exited the metro?  
Of course, this kind of "secondary use" of consumer data raises red flags about privacy concerns. In some ways, the interests of a private credit card or mobile payments company would be aligned with that of the bus rider. In a perfect world, companies could provide riders with more tailored and relevant information (i.e. advertising) about the world around them.
Then, again, the world of targeted marketing hasn't always been perfect. O
ne can imagine ways in which uses for this kind of location data would
not
align company and consumer interests, which is somewhat more problematic. In a conversation with Ryan Calo, a law professor at the University of Washington and privacy expert, he pointed out that if companies use information about how people ride public transportation against them, say to create a system of price discrimination so that coffee at Cosi is
more
expensive during the hours of the bleary-eyed commute, that would constitute a kind of harm to the consumer.  
The online world "is a mediated environment, in that there's a layer between what you do and your experience," Calo said, but when this kind of data use "begins to spread to the offline world...[it] blurs the distinction that we have between the online world and the brick and mortar world." This highlights the important distinction between "push" versus "pull" data transactions, to borrow email terms for a moment: if we automatically give up ever more information about our location and traveling habits every time we ride the bus, then morning commutes become just one more space in which profitable information about our private lives becomes thoughtlessly available to private companies who might not have our best interests in mind.
Despite these cautions, there are responsible ways to deploy more efficient public transit payment systems, especially if consumers are aware of how their information could be used if they choose the convenience of a contactless or mobile swipe. But at this point, at least in the United States, this potential is a long way from being realized -- the technology market is too fractured to support a major shift in the way we pay for the bus any time soon.