For Sale: NASA Launchpad, Gently Used
NASA's space shuttle program may be holding a going-out-of-business sale.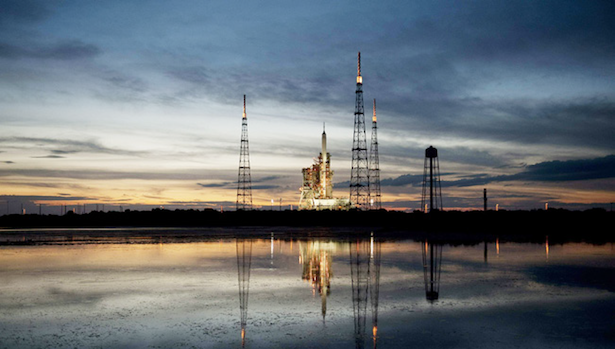 On July 20, 2011, at 5:57 a.m. EDT, the space shuttle Atlantis made its final touchdown on the runway of NASA's Kennedy Space Center in Cape Canaveral, Florida. NASA's storied shuttle program wasn't the only thing that came to its official end that day; the intervening year-and-a-half has also seen the slow obsolescence of the tools that allowed the program to be what it was: the rocket launch pads and the equipment hangers and the buildings of Cape Canaveral.
Now, it seems, those items -- those relics of a program past -- will be slowly sold off. Or, perhaps, rented off. NASA, the Orlando Sentinel reports, has been advertising -- quietly -- a long inventory of the facilities and equipment at the Kennedy Space Center, "listing them as available for use, lease or, in some cases, outright purchase by the right business."
Among the items in that inventory:
• launchpad 39A, where shuttles were launched;
• space in the Vehicle Assembly Building, the 526-foot-tall structure first used to assemble Saturn V-Apollo rockets;
• Orbiter Processing Facilities -- essentially large garages where shuttles were once maintained;
• Hangar N (including its high-tech test equipment);
• the launch-control center;
• a 15,000-foot landing strip;
• a parachute-packing plant;
• an array of aerospace tracking antennas;
• and various other buildings and sections of undeveloped property.
NASA's little enormous yard sale, if it does take place, may also be something of a fire sale -- no rocket-fuel pun intended. The equipment in question requires careful (and expensive) maintenance; and federal funding for that maintenance is scheduled to expire by the end of 2013. The swampy environment of Cape Canaveral's particular stretch of Florida coast is harsh on metal and other materials; if the transferrable equipment isn't transferred within that timeframe -- and if buildings aren't used and maintained -- they'll start to rust and otherwise deteriorate in their inhospitable environment.
As Joyce Riquelme, NASA's director of KSC planning and development, told the Sentinel: "We have a lot of things in discussion, realizing that these major facilities have been funded by the space-shuttle program. And the facilities out here can't be in an abandoned state for long before they become unusable. So we're in a big push over the next few months to either have agreements for these facilities or not."
So: Got a friend who could use an Orbiter Processing Facility? Been hankering for a rocket launch pad? Get over to NASA-Mart! The prices may not be low, but the merchandise is out of this world.