Coming Soon: Fewer Pictures of Naked People at Our Nation's Airports
The TSA has ended its contract with controversial scanner maker Rapiscan.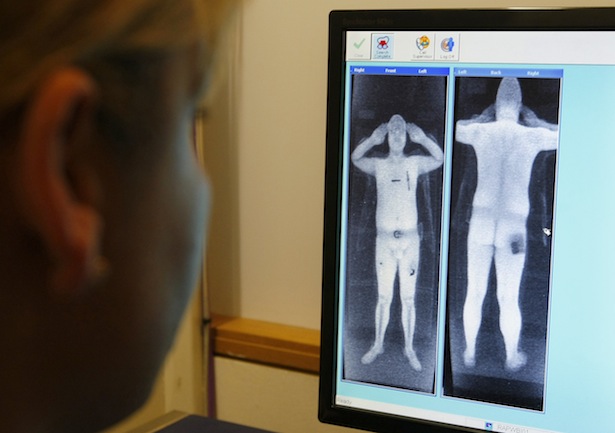 Here's the latest in the long, strange, often frustrating saga of airport security scanners: The Transportation Security Administration has ended a contract with Rapiscan, the manufacturer of the controversial backscatter screener.
The reason, per the TSA? It wasn't that the machines subjected consumers to objectionably high levels of radiation -- a matter that will soon be the subject of a National Academy of Sciences investigation. It was instead that Rapiscan Systems failed to deliver software to protect the privacy of passengers -- specifically, to create a system that would avoid creating nude, if cartoonish, images of passengers.
As the Los Angeles Times reports, "TSA gave Rapiscan until June 2013 to come up with a software upgrade to prevent the scanner from projecting the naked image. TSA officials said Rapiscan won't be able to meet that deadline." As the agency itself put it in a statement, "TSA has strict requirements that all vendors must meet for security effectiveness and efficiency since the use of this technology is critical to TSA's efforts to keep the traveling public safe."
The cancellation of the contract also means that the TSA will be removing 174 Rapiscan machines from U.S. airports -- with Rapiscan absorbing the cost. That will mean a big change for passengers who pass through security checkpoints: Rapiscan had manufactured about half of the full-body scanners used by the TSA. The machines will be replaced by scanners produced by L-3 Communications Holdings, which use radio waves to do their screening -- and which depict questionable objects on avatar images, rather than images of passengers themselves.