Aghast Over Beijing's Air Pollution? This Was Pittsburgh Not That Long Ago
Change takes a long time. Pittsburgh, for its part, did not enact smoke controls until more than a century after travelers described it as hell with the lid off.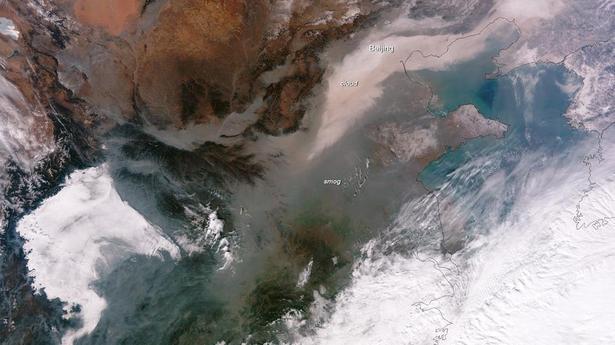 NASA
The photographs and measurements coming out of Beijing these days are horrifying. You can see the brown clouds from space, and Chinese media has even been talking up the problem.
I've heard from some Americans saying, "Why don't they do something about this? How can they live like this?" Etcetera. To an early 21st century American, particularly one living in northern California or a relatively pollution-free Washington, DC, it seems crazy to live with such bad air.
But it was not always so.
As America became an industrial power during the 19th century, Pittsburgh emerged as the seat of metalworking, iron and then steel. This was a city powered by coal. Soot and smoke covered the city. There was no blue sky. Travelers from around the world visited Pittsburgh to see the wonder of American capitalism. The stories they tell are like -- exactly, like -- the ones you hear today about China. (This is a story that I covered in some detail in my book.)
A wry southerner observed, "If a sheet of white paper lie upon your desk for half an hour you may write on it with your finger's end through the thin stratum of coal dust that has settled upon it during that interval." Another traveler recounted, "Every body who has heard of Pittsburgh knows that it is the city of perpetual smoke, and looks as if it were built above the descent to 'the bottomless pit,'" that is to say, hell. And yet, this dirty power also happened to make a lot of people a lot of money. It was said, "He whose hands are the most sooty handles the most money, and it is reasonable to infer is the richer man."
Everyone knew that the smoke covering their homes and clothes and trees was bad. But it made a certain group of people a lot of money. And so they fought pollution controls.
And those people had friends.
So, while the American Academy of Arts and Sciences (granted, a less august institution back then) declared the health hazards of smoke and wondered aloud whether corporations should be allowed to produce what it called such "evil," a Pittsburgh doctor maintained that soot and smoke "only go throat-deep" and said that fire and smoke "correct atmospheric impurities."
The politics of how this works are pretty simple. The smoke and the soot are something we recognize now as an externality. A cost of doing business that the business doesn't have to pay because they can dump it on society. Chinese citizens and activists and assorted air-breathers will have to get the polluting companies to internalize these costs. The polluting companies don't want to internalize that cost. Here's Chicago's smoke inspector (yes htere was such a title and in this case, he was named F.U. Adams) in 1896 laying out the rhetorical positions of the two camps:
Viewed from the standpoint of the Smoke Inspector, the 1,600,000 people of Chicago are divided into two classes--First, those who create a smoke nuisance; Second, those who are compelled to tolerate a smoke nuisance. One class has radical champions who maintain that smoke is an irrepressible necessity; a concomitant of the commercial and manufacturing supremacy of Chicago; that smoke not only is not unhealthy, but that it is an actual disinfectant, and that the low death rate of the city can be largely attributed to the prevalence of smoke; that the smoke ordinance and its enforcement are aimed at the interests of the Illinois coal operators; that the advocates of smoke abatement are visionary sentimentalists, and in a general way they are emphatically opposed to any agitation on the subject.

The other side has partisans no less radical, and equally emphatic in voicing the story of their wrongs. They declare that the enforcement of the smoke ordinance is a farce; they demand that soft coal be excluded from the city; they insist that its consumption entails an annual damage greater than the difference in cost between soft and hard coal; they declare that the smoke nuisance is a positive menace to the health of citizens, that it has resulted in an alarming increase in throat, lung and eye diseases; they point to ruined carpets, paintings, fabrics, the soot-besmeared facades of buildings and to a smoke-beclouded sky, and demand that the Smoke Inspector do his plain duty under the law.

It is impossible to reconcile the radical partisans of these two classes. It is fortunate that not many of our citizens are so radical on either side of this most important question. There exists a growing contingent, around which is crystallizing a sentiment that it is practical and possible to abate the smoke nuisance without endangering the stupendous interests involved. The most intelligent and active members of this contingent are drawn from the ranks of those formerly largely responsible for the smoke nuisance. They now oppose smoke for the same reason that they once defended it.

They have made the discovery that it is cheaper to abate a smoke nuisance than to maintain one. And by reason of this discovery the smoke nuisance in Chicago will be a relic of the past before the close of the present century.
Ah, you beautiful visionary sentimentalists! My asthma thanks you. But man, F.U. Adams was optimistic. Change takes a long time. Pittsburgh, for its part, did not enact smoke controls until 1946! Yes, 1946! And they didn't really get a handle on the smoke problem until well into the 1950s. That's, oh, 120 years after all those travelers decried the place as hell with the lid off. I mean, this is what Pittsburgh looked like at noon, the lights all on because so little sunlight could penetrate the pollution: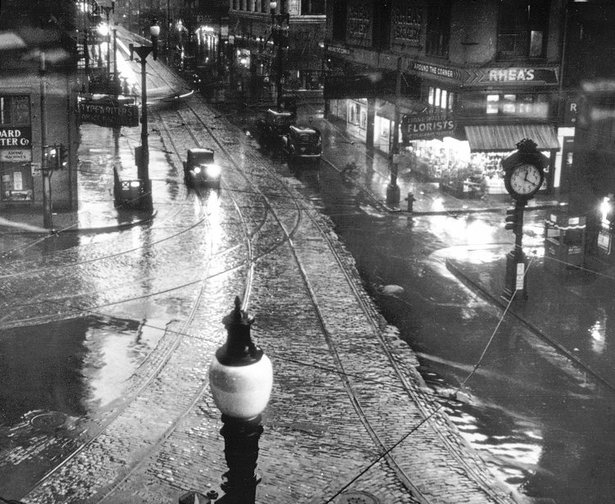 This is what passed for fresh air.
Until finally, one day, after a century of agitation, activists got smoke control measures passed. The sky started to clear.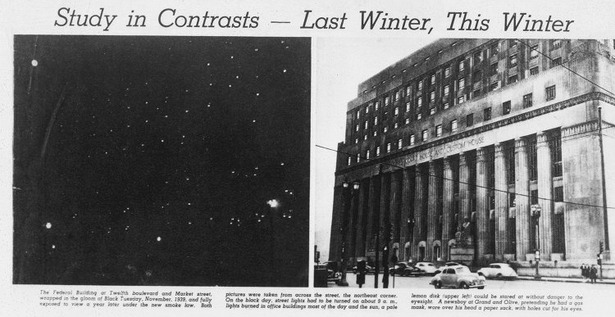 The fundamental struggle of any kind of pollution control is trying to get the polluters to internalize the costs of their pollution. Because if they don't, the rest of us have to pay more. We -- i.e. all of society -- subsidize their businesses through increased health care costs, declining values of certain kinds of housing, toxic land or water or air. And the only reason they get away with it is that tracing the line of causality back to them -- even when the air looks as disgusting as it does in these photographs -- is just that difficult. They hide their roles in the complexity of the system.
So, next time you see one of the photos of Beijing's pollution and say, "Geez! The Chinese should do something about this!" Just know that it took American activists over a century to win the precise same battle, and that they're losing a similar one over climate change right this minute.