A Surprisingly Beautiful Photo of Mars at Night, Courtesy of NASA's Curiosity Rover
Using the camera at the end of its long robotic arm, Curiosity has taken a picture of a rock illuminated by the rover's ultraviolet LEDs.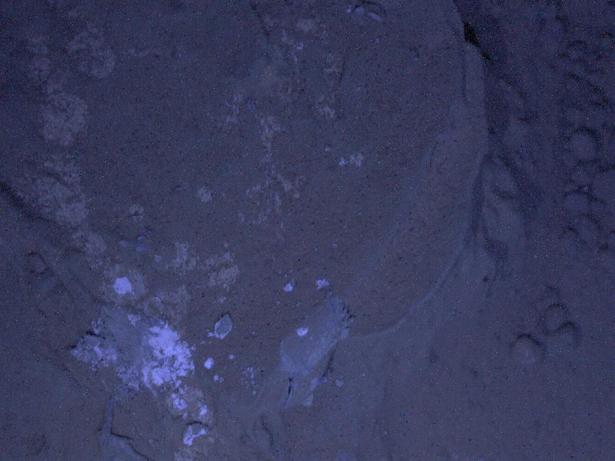 NASA
Not to take things for granted, but we have a lot -- really a lot -- of photographs of Mars' dusty, red landscape. But a new picture from NASA's Curiosity rover gives us something different to marvel at: A sliver of the planet at night, illuminated by the rover's ultraviolet lights.
The rover began this project by scuffing a patch of Mars with its front left wheel, kicking off the dust to reveal this rock, which NASA has named "Sayunei." Then, during a Martian night that fell on the Earth day of January 22, Curiosity took its Mars Hand Lend Imager camera (aka MAHLI) and snapped this shot as it shined two ultraviolet LEDs on the target. The exposure lasted 30 seconds and covers an area just one inch by 1.3 inches.
NASA plans to examine the image for signs of flourescent materials.
Another image of the rock at night shows what it looks like under regular white lights: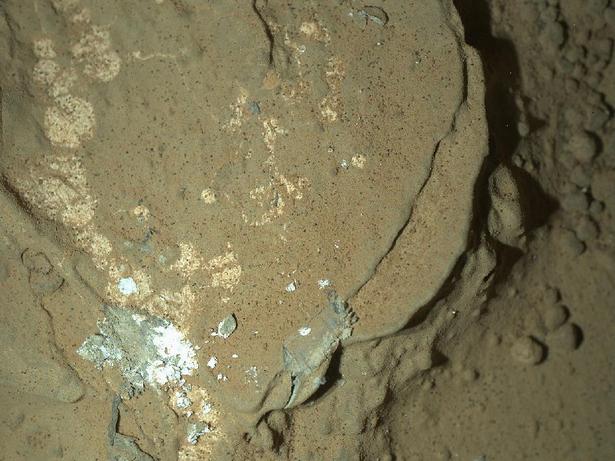 NASA
And if the photo itself doesn't bring your jaw to the floor, think about this: Sometime last week, while you were at work, or at home, or at school, a little robot built here on Earth shone its lights onto a tiny patch of rocks on a planet about 200 million miles away, and -- click -- it took a picture, and sent that picture back home.