A Grand Plan to Make Silicon Valley Into an Urban Paradise
Maybe the suburban land of the tech giants could become a thriving dense metropolis.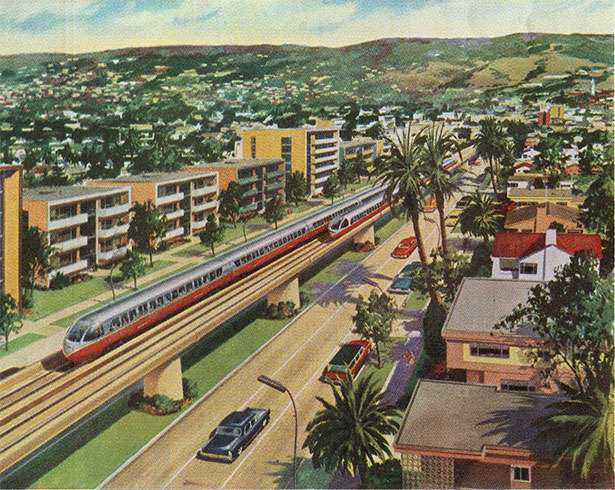 Ken Layne has an intriguing suggestion about my beloved metro area: San Francisco, he writes, is not actually the Manhattan to Oakland's Brooklyn, but rather "the Brooklyn to an as-yet-unbuilt Manhattan." (Which would make Oakland Queens? OK. I'm cool with that.)
His argument is that Silicon Valley, if it wants to remain the world's high-tech capital, needs to reform itself into an urban wonderland instead of a Simi Valley suburb with lots of wealthy people. He'd start the reformation with the architecture which he accurately depicts as Bad 70s, and then get to work on the transportation infrastructure.
"With local light rail at street level and express trains overhead or underground, the whole route could be lined with native-landscaped sidewalks dotted with pocket parks and filled on both sides with ground-floor retail, farmers markets and nightlife districts around every station," we read. "Caltrain already runs just east of Route 82, and BART already reaches south to Millbrae now."
It's a wisp of a suggestion, an opening statement, perhaps. But as a Bay Area resident, it's fascinating. Housing in The City is now ridiculously expensive thanks to the success of our technology companies and resistance to very dense housing. Many long-time residents are fleeing to the East Bay. I have very high hopes for Oakland, but I haven't heard anyone suggest that the Valley could become dense. It just seems impossible based on the existing housing stock and local politics (i.e. there are many, many small warring cities).
But the current situation, in which thousands and thousands of high-tech workers commute out of San Francisco and into the Valley also seems untenable. "
Massive arcologies
like the new Apple campus are where the tech giants are headed, but until there are living urban neighborhoods connecting these monstrosities, anyone with hopes for a life outside of work will pay a ridiculous premium to live in San Francisco and spend two hours of every day sitting on a bus," Layne writes.
Of ourse, Layne has a pretty narrow prescription for a good life. A lot of people like the burbs, even hip tech workers with Macbook Airs. After all, the areas south of San Francisco are already beautiful, sunny, and replete with good hiking and cycling.
But allow yourself to imagine for a moment a new city rising out of the office parks and Applebee's, the faux Italianate houses and faux Spanish dental buildings  One building goes up, then another. A coffee shop. And the name on everyone's lips, the hot new neighborhood in the Bay: Redwood City, Redwood City, Redwood City.