A Big Field Test for 'GeoPush' Ads That Pop Up on Your Phone
Google-backed geofenced ads could open up space for whole new types of media as it becomes profitable to do new kinds of local journalism.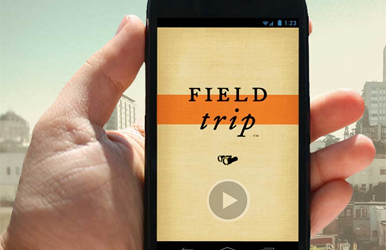 Today, Scoutmob, a daily deals site with a focus on the local/artisinal, is rolling out a trial with Google's Field Trip app for Android phones. Field Trip, as we've discussed before, is a foray into pushing you local content and information. Now, with the new deal, the company will get to experiment with pushing ads to your phone. This is a delicate operation, people at Google realize, but they seem determined to figure out how to make it work. What are the rules that they'll have to follow, so that they don't alienate their users?
Over the last year, many people I've talked to about the future of mobile devices told me to expect the phone to evolve into a personal assistant over the next few years. Siri was a down payment on that kind of future, as is Google Now for Android. These companies want to gracefully deliver you information that you want -- like, say, news about traffic when you have an appointment across town -- before you even know you want it.
But when I try to think through the user-interface implications of such a relationship, I'm struck by how often the phone would have to get my attention without me looking at it. Instead of pulling information from my device, it'll have to push information to me.
Google's John Hanke described the challenge in a story about Field Trip. "This seamless discovery process, doing things automatically on the phone," Hanke said. "I think it's a whole new frontier in terms of user interface. What's the right model there? How do you talk to your user unprompted?"
Back then, Google's Hugo Barra, director of product management for Android, agreed. "Google Now is probably the first example of a new generation of intelligent software," Barra said. "I think there a lot more products that are similarly intelligent and not as demand-based."
In our interview, he continued, "We've unified all these backends. Things you've done in history, the place where you are, the time of the day, your calendar. And in the future, more things, more signals, the people you're with. Google can now offer you information before you ask for it."
Barra concluded, "It's something the founders of the products have wanted to do for a long time."
This is all happening against a backdrop where Google makes tons of money on advertising for a simple reason: when you search for a product or a problem that could be solved by a product, it is a very strong signal of your interest in or intent to buy something. That makes Google ads very valuable all the way down the long tail. 
But in the mobile space, things are a little more complex. There are more signals (e.g. your location) but also confounding variables and a user-interface that makes it more difficult to access information in most cases. 
From a user perspective, the rise of push ads could get annoying fast. But from a content-generation perspective, Google-backed geofenced ads could open up space for whole new types of media as it becomes profitable to do new kinds of local journalism. So, do you root for this pushy future or against it? 
I just don't know. But at least we'll start to see prototypes for how it might work in practice rather than Minority Report fever dreams.