Probably not, alas, "let's get this mother out of here" ...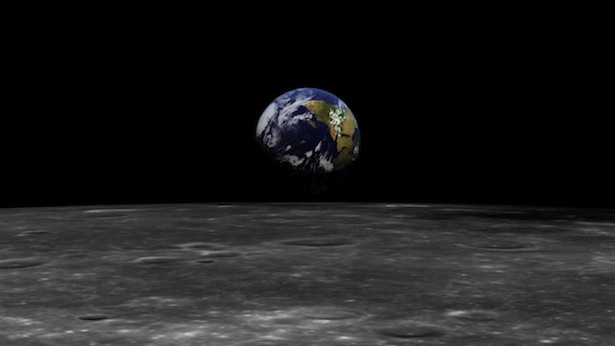 NASA/GSFC Visualization and Analysis Lab
Forty years ago, on December 14 at 5:54:37 p.m. EST, humans left the moon for what would turn out to be the last time. But how did the three men who made that departure -- taking their last small steps, their last great leaps from the lunar surface -- mark that occasion? What parting words did they leave to the moon, and to their fellow humans, and to history?
As Miles O'Brien notes in his tribute to the bittersweet anniversary, the commander of the Apollo 17 mission, Gene Cernan, had prepared a speech to mark his crew's lunar departure. It was was appropriately lengthy and lofty. He delivered it like this:
As I take man's last step from the surface, back home for some time to come (but we believe not too long into the future), I'd like to just say what I believe history will record: That America's challenge of today has forged man's destiny of tomorrow. And, as we leave the Moon at Taurus-Littrow, we leave as we came and, God willing, as we shall return: with peace and hope for all mankind.
But these were not, technically, the last words ever spoken on the moon. Cernan and his crew, on the contrary, maintained a decidedly less-epic dialogue as they did the delicate work of lifting their little spaceship off the lunar surface -- dialogue that was mostly pragmatic and mission-moderated, but dialogue that was also, occasionally, the casual conversation of guys who are having an adventure together.