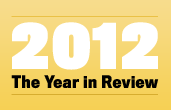 Atlantic writers survey the biggest stories and ideas on their beats.
See full coverage
Technology changes year to year, phone to phone, quarter to quarter. Here at The Atlantic, we like to focus on how those changes happen, the ideas that animate them, the people that execute them, the users who transform them. The last year saw massive change in this broad definition of the technology landscape -- from how we elect presidents to how we fight wars, from how we keep in touch with friends to how we read in solitude. This year wasn't like 2011 in which a few key stories dominated headlines from month to month (WikiLeaks, the revolutions in the Middle East and north Africa); it was a year in which there could have been 20 stories on this list as the the industry and its watchers groped for an organizing narrative beyond "the rise of social media," the arrival of tablets, and the dominance of Apple. So, we left out the well organized protests against SOPA/PIPA that kicked the year off and the ongoing patent wars that define which companies can make what products, but these themes below reflect our obsessions, the things we've been thinking about, and hearing about from you. They provide a guided tour to how people used technology in 2012, for good, for bad, and for profit.
We want to hear what you think about this article. Submit a letter to the editor or write to letters@theatlantic.com.
Alexis Madrigal is a contributing writer at The Atlantic and the host of KQED's Forum.