The Tweet-Like News Flash That Announced Pearl Harbor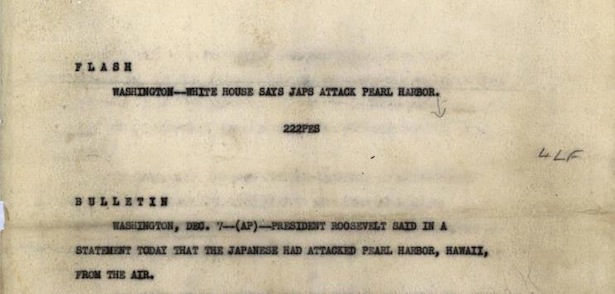 AP Corporate Archives
On this day 71 years ago, the United States experienced a day that would live in infamy. In the news flash above, the Associated Press made its first, terse announcement of the Pearl Harbor attacks to the nation.
AP Flashback has an excerpt about that document from Breaking News: How The Associated Press has Covered War, Peace, and Everything Else, detailing how the news cooperative learned about the attack:
In Washington, it was 2:20 p.m., and AP editor William Peacock was in his office contemplating lunch - a peanut butter and bacon sandwich, just delivered from the Peoples Drug Store next door - when the phone rang, and a White House operator said, 'Stand by for a hookup and statement from Mr. Early. Important.'

Stephen Early, who as a junior AP reporter in 1917 had been sent to pick up the 'Zimmerman note,' the secret German cable that sealed America's entry into World War I, now was press secretary to President Franklin D. Roosevelt. A telephone hookup connected the White House simultaneously to AP, UP, and International News Service (INS).

Just as Peacock took a bite, the White House operator said, 'All on, Mr. Early.' The press chief spoke. 'I have a statement from the president. The Japanese have attacked Pearl Harbor from the air.'
From there, and moments later, the AP sent the flash and bulletin shown above -- followed by an additional flash and bulletin sent after AP learned of another Japanese attack, on the Philippines. The document is striking for many reasons, but one of them is how brief -- concise -- tweet-like -- the flash is. A day that would live in infamy for future generations -- a day whose consequences would mold the Greatest Generation and those that would follow it -- may as well have been sent as a tweet. The AP's bulletin clocked in, all told, at 138 characters.