The Strangest, Most Haunting Images of Saturn You'll Ever See
Our mighty spacecraft has traveled to Saturn's dark side, and captured the majestic planet backlit by our star the sun.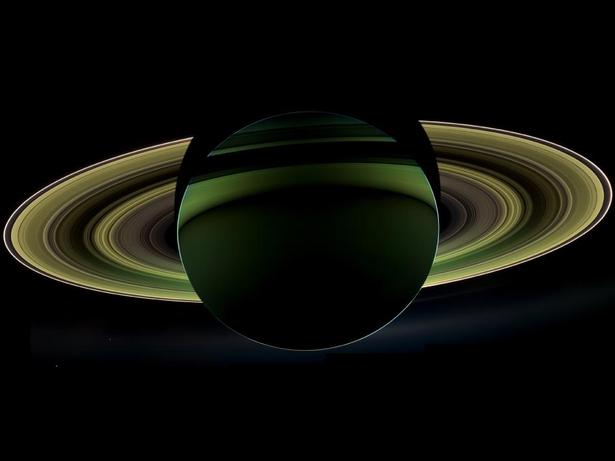 Just when you thought everything was wrong with the world, NASA has gone and released something truly stunning to set your mind at ease: Saturn, as viewed from its dark side with the sun's light filtering through the planet's rings.
The picture, taken on October 17th, is composed of 60 images taken by the Cassini spacecraft in lightwaves ranging from violet to near infrared. "Of all the many glorious images we have received from Saturn, none are more strikingly unusual than those taken from Saturn's shadow," aid Carolyn Porco, Cassini's imaging team lead.
An earlier backlit image of Saturn taken by Cassini in 2006 shows something pretty special: Earth -- a pale blue dot seen in the upper-left quandrant in the fainter reaches of Saturn's rings. Though the newer image does not show our planet (it is behind Saturn), the view is closer up, providing scientists with a better opportunity to study the rings in detail.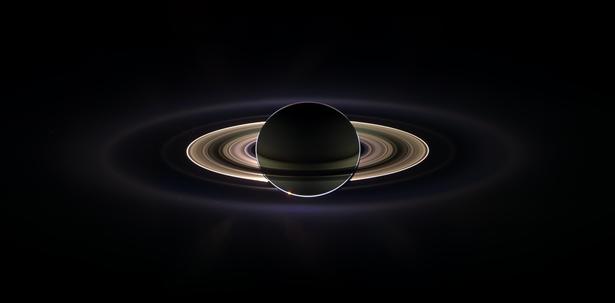 In a TED talk filmed the year after that image was taken, Porco takes us on a tour of Cassini's discoveries of this other world to date, and closes by showing off the majestic beauty of the backlit planet. "There is something deeply moving about seeing ourselves from afar, and capturing the sight of our little blue ocean planet in the skies of other worlds," she says. "And that, and the perspective of ourselves that we gain from that, may be in the end, the finest reward the we earn from this journey of discovery that started half a century ago."