A striking photo highlights a new facet of modern warfare.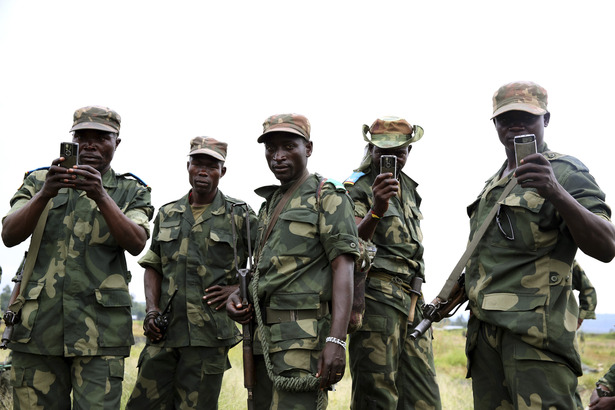 These are five government troops in the Democratic Republic of Congo, three of whom, according to Reuters' caption, are recording video with their phones. They are in the town of Sake, near the town of Goma, which rebels captured last month.
I don't know what to say about this photograph aside from suggesting that an enterprising PhD student write a dissertation on "Cell Phones in War." How are fighting, killing, and controlling territory different when you can call your brother after battle, post a photo of your squadron on the march to Facebook, or play Angry Birds between skirmishes?
Philip Bump reminded me of this chilling CJ Chivers post from a few months ago in Syria. A soldier sits with a high-caliber machine gun, one hand on the trigger, the other on his phone. Chivers' description:
Machine gun in right hand. Cell phone in left. On duty on the gun-truck's machine gun, at 80 miles an hour into Aleppo, checking messages along the way.

Even as the war in Syria rages, large areas of the countryside have cellular phone coverage, and the fighters are constantly checking their phones. When they stop, many of them immediately look for ways to recharge their phone batteries. And, often as they move and enter an area with a strong signal, they commence texting back and forth.
Update: here's one monograph that touches on some of the military strategy concerns of ubiquitous cell usage, "YOUTUBE WAR: FIGHTING IN A WORLD OF CAMERAS IN EVERY CELL PHONE AND PHOTOSHOP ON EVERY COMPUTER."