Stephen Hawking Calls for Alan Turing's Pardon
The popular physicist has joined with other scientists and British leaders to ask Prime Minister David Cameron to "formally forgive this British hero."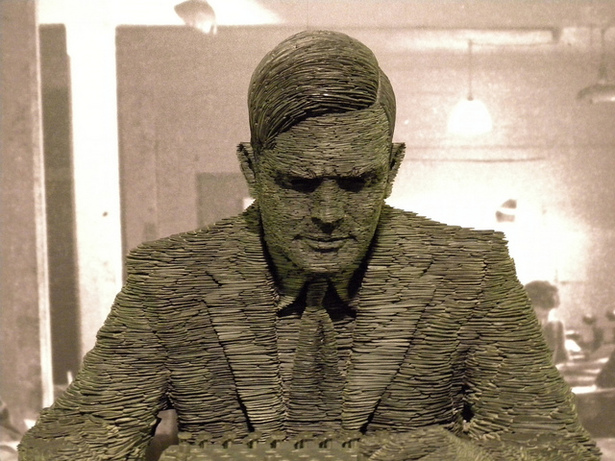 Steve Parker/Flickr
At the end of World War II, mathematician and early computer scientist Alan Turing was a hero. He had led the British in breaking the Engima code, an effort that was hailed for bringing the war to a close.
But not long after the war, in 1952, he was arrested for what was then a crime in England: his sexuality, or, in legalese, "acts of gross indecency between adult men." He had a choice: imprisonment or estrogen. He chose the hormone treatment, which made him impotent and caused him to grow breasts. Two years later, he died in what is widely believed to have been a suicide.
In more recent times, England has sought ways to repent for what it did to Alan Turing. In 2009 Prime Minister Gordon Brown issued a formal apology. But official forgiveness remains in the offing: Earlier this year, members of parliament introduced legislation to pardon Turing. Now, several of the nation's top scientists, including Stephen Hawking, and other leaders have penned a letter to the Telegraph, throwing their support behind the bill.
They write:
SIR - We write in support of a posthumous pardon for Alan Turing, one of the most brilliant mathematicians of the modern era. He lead the team of Enigma codebreakers at Bletchley Park, which most historians agree shortened the Second World War. Yet successive governments seem incapable of forgiving his conviction for the then crime of being a homosexual, which led to his suicide, aged 41.

We urge the Prime Minister formally to forgive this British hero, to whom we owe so much as a nation, and whose pioneering contribution to computer sciences remains relevant even today. To those who seek to block attempts to secure a pardon with the argument that this would set a precedent, we would answer that Turing's achievements are sui generis. It is time his reputation was unblemished.

Lord Currie of Marylebone
Lord Grade of Yarmouth
Lord Faulkner or Worcester
Lord Rees of Ludlow
Astronomer Royal
Lord Sharkey
Lord Smith of Finsbury
Baroness Trumpington
Sir Timothy Gowers
Rouse Ball Professor of Mathematics, Cambridge University
Dr Douglas Gurr
Chairman, Science Museum Group
Professor Stephen Hawking
Sir Paul Nurse
President, the Royal Society
Various arguments of, not surprisingly, varying strengths have been made against the pardon. The justice minister, for example, has argued that pardons are not meant for people who were properly convicted of what was then a crime, no matter if we today look back on those laws with opprobrium. To pardon Turing would, in a sense, take England off the hook for its shameful history. Others, such as gay-rights activist Peter Tatchell, have questioned the wisdom of singling out Turing, when perhaps as many as 100,000 men were convicted under that same statute.
But these arguments lose sight of the point of the pardon. What good is it to pardon a man who has been dead nearly six decades? It is not for his benefit, and it does not undo the past, somehow redeeming England through its words. No, its value is symbolic, a statement that England recognizes the error of its ways and champions its progress since. As for the other 100,000 convicted men, heck, pardon them all -- and let Turing be once again the man who has led the way to victory.