Satellite Image: North Korea Prepares for Its Upcoming Rocket Launch
A glimpse of the Sohae launch facility where North Korea is readying its next satellite-bearing rocket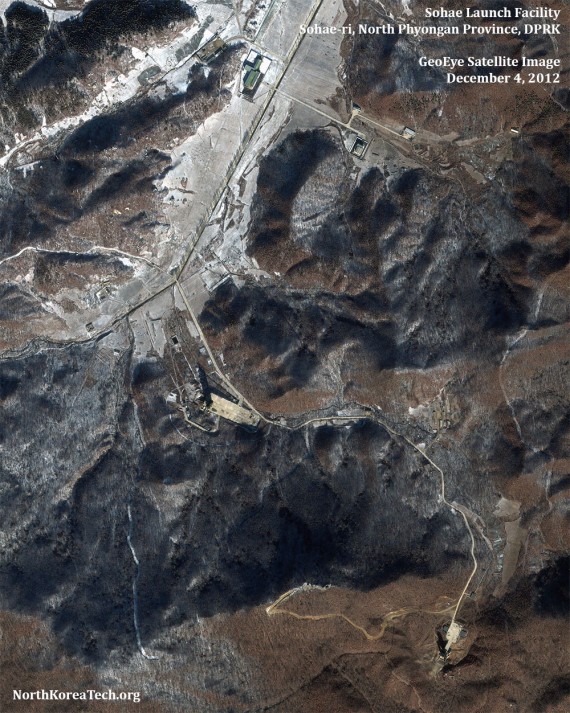 Journalist Martyn Williams of NorthKoreaTech.org has tracked down images from a GeoEye satellite, taken this morning in North Korea, that show a rocket-launch facility in the isolated country where preparations for a rocket launch are under way. As Williams writes, "It's sadly not possible to get a live look at North Korea's Sohae launch facility, but we do have the next best thing: a satellite image from earlier today."
In the image, broken out into a close-up below, you can see four objects of some kind on the launch pad itself, and more on the road. A circular path surrounds the pad. Similar images, taken two weeks ago, showed "a new tent, trucks, people and numerous portable fuel/oxidizer tanks," according to DigitalGlobe, another satellite-imagery provider.
Once upon a time, retrieving a bird's-eye-view of land behind enemy lines was a technological feat worthy of awe and the recipient of substantial military R&D. Today our surveillance capacities have expanded so much that images like this are mundane. We can just navigate over to NorthKoreaTech.org and see a launch pad in remote northern North Korea, as it was just a few hours ago as photographed from space.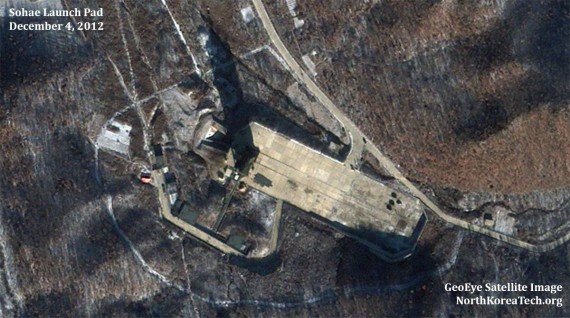 The changes are visible confirmation of what North Korea announced last week: Sometime between December 10 and 22, the country will attempt to launch a Kwangmyongsong 3 satellite into orbit. A similar effort failed earlier this year. "The DPRK plans to launch another working satellite, second version of Kwangmyongsong-3, manufactured by its own efforts and with its own technology, true to the behests of leader Kim Jong Il," the state news agency reported.
H/t @pbump.