Picture 2012: An Israeli Drone at a Swiss Air Base
We're looking back at the photos that defined the sociotechnical changes of the year.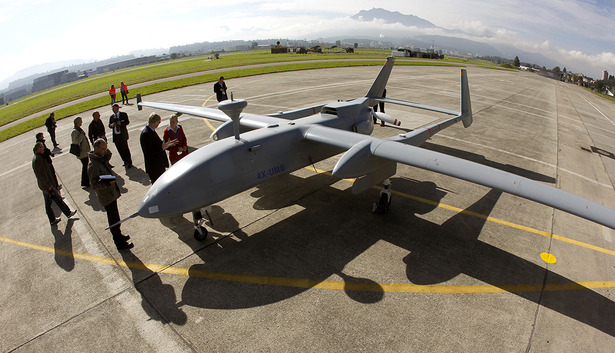 For the last five years, the American drone fleet has been growing. The military now has more than 7,500 unmanned aerial vehicles, including everything from tiny, hand-launched Ravens to large, armed Predators. Then there's all the CIA and Homeland Security drones.
But in 2012, we began to see what should be obvious: the drone business will be global. While drone strikes are an American strategy now, these machines are relatively cheap and will only get more so. As we've said before, everyone who wants a drone will have one of some kind.
Most specifically, drones are not like nuclear weapons with a few countries controlling the resources to create them. No, the technologies for dronemaking will be widely distributed. Israel, a long-time manufacturer of UAVs, has beefed up its exports. Azerbaijan, for example, cut a $1.4 billion arms deal with Israel in February; dozens of drones were included in the package. Expect more and more alliances like this as these robots spread out across the globe.