On the Ambivalence We Feel About Seeing Pictures of Tragedy on the Web
Lessons from Saint Augustine and other scholars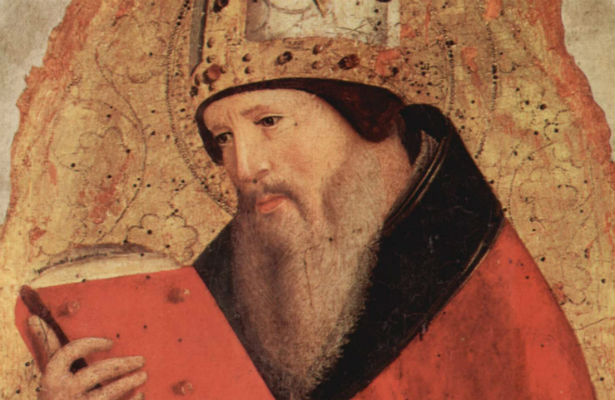 Phillip Kennicott, in the Washington Post, deplores the proliferation of horrifying images like the New York Post's publication of a freelance photographer's image of a man pushed to his death at a New York subway station.
He has a good point about the ambivalence of so many or most of us to images of horror -- not wanting to look yet being unable to resist the urge to confront suffering and evil directly, as in a story told by Augustine, which Kennicott retells:
The anxiety about whether it is seemly to feast one's eyes on the moment of another man's death is at least as old as Saint Augustine, who recounted in the "Confessions" the futile resistance his protégé Alypius made to the attractions of gladiator contests. When Alypius was dragged, resisting and protesting, to the arena by a gaggle of worldly friends, the young man closed his eyes so as to not see the bloodshed. But the roar of the crowd broke his will, and when he opened his eyes just momentarily -- like the shutter of a camera going off -- he was transfixed: "He was no longer the man who had come to the arena, but simply one of the crowd which he had joined, a fit companion for the friends who had brought him," wrote Augustine.
Was Alypius merely an ethical weakling? The literary scholar Eric G. Wilson disagrees. As he notes in the publisher's page for Everyone Loves a Good Train Wreck, "To repress death is to lose the feeling of life. A closeness to death discloses our most fertile energies."
Even if you totally reject this point of view, are ugly and disturbing images so prominent on the web? I doubt it. See this list of the ten most popular Youtube videos of 2012. The only "violent" one is a stunningly staged parody. I'm sure there are disturbing images of cruelty to animals, but the web's bias is definitely toward cute cats and dancing cockatoos.
Of course you can search for anything disturbing from political extremism to sexual violence on the Internet and find it. Search engines are most obliging. If you Google "Judaism" you find Jewish sources; if you enter "Jew," the algorithm knows you're probably an anti-Semite and serves results accordingly. The real difference between old and new media may be not the relative prominence of the distasteful and disturbing but the replacement of an editor or curator who takes responsibility for selection with an ostensibly amoral program. That's a convenience for the sick-minded -- and their critics -- but not a real indictment of the medium.