Offer: Gift a Signed Copy of Our Atlantic Tech Ebook
Gift the book and we'll send a personal note to the giftee.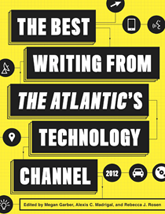 A beautiful way to read our best stories. Plus, the book is free!
Free Download
We've heard from some people who say they'd like to give our ebook to a friend, loved one, or archenemy as a gift. This is awesome. Also, cheap!
But you know, the natural aura that comes with a bound volume doesn't come with an ebook. You don't want to send someone a PDF and be all like, "Merry Christmas!" You want it to feel special, a less replicable experience.
We want to help you out. If, by the end of today, you send me the email address of the person to whom you want to gift our book, the Atlantic Tech team will personally email him or her. We'll say a nice thing about the gift giver, provide links to the book, and generally try to say the clever, funny things that make for a good note.
Just email me at amadrigal[at]theatlantic.com with the word 'elfin' somewhere in the subject. And we'll send a "signed" copy over before the 25th.