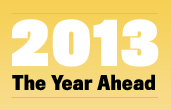 Atlantic writers preview the stories, trends, and ideas to watch.
See full coverage
When we put our heads together to think about what tech looks like in the year ahead, many of the stories are in fact, quite predictable: The drone wars will presumably escalate; guns will likely continue to be a piece of technology we agonize over and try to control through regulations; the major tech companies will release new products and squabble over shares of the market.
Such predictions don't really help you all that much. We could just as assuredly tell you that people will continue to eat at McDonald's and Republicans and Democrats will still not get along. So instead of assembling what we know to be true, we've picked a list of stories to keep an eye on for the reasons that they either give us a particularly revealing bit of analysis, or, in some cases, just give us a bit of hope. Maybe a world without crappy remote controls isn't nearly upon us, but the landscape is shifting, and we can see an end in sight.
We want to hear what you think about this article. Submit a letter to the editor or write to letters@theatlantic.com.
Alexis Madrigal is a contributing writer at The Atlantic and the host of KQED's Forum.