Google Gives $5 Million to Drone Program That Will Track Poachers
If left unchecked, poaching threatens to annihilate some of the world's biggest and most beautiful species. Can UAVs stop the bloodshed?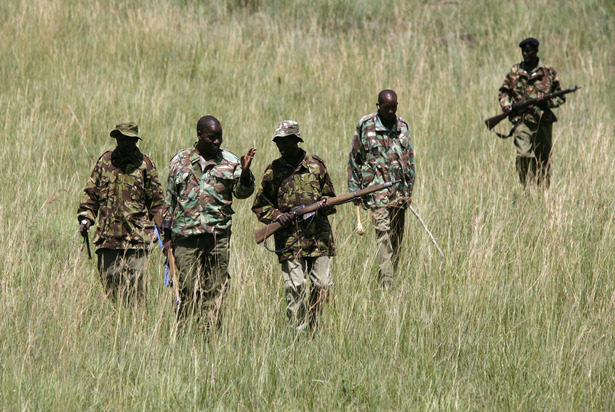 Across Africa and Asia, an illegal trade worth $7 to $10 billion annually is threatening to annihilate elephants, rhinoceros, tigers, and others of the world's biggest and most beautiful species. Conservation groups and governments are struggling to police the poachers and protect the animals, but the stretches of wild land they must patrol are far too big for their resources; will too little oversight, poachers are able to kill and trade undetected.
Biologists and conservation groups have found reason to hope they can stop the bloodshed: drones, or, more generally, unmanned aerial vehicles (UAVs). The World Wildlife Fund has seen in UAVs the potential to scan large areas for poachers, and earlier this year launched a pilot program in Nepal to try them out. And now, with $5 million in funding from Google, the WWWF will be able to expand its conservation-drone program at four (so-far unnamed) sites in Africa and Asia. The money was given as part of the first round of Google's Global Giving Awards and will also go toward a tagging system and analytical software that will help rangers monitor wildlife and illegal logging across huge landscapes.
Poaching has become much more severe in recent years, as China's growing middle class demands ivory tusks and other animal parts for ornaments, jewelry, and supposed healing qualities. Conservation groups estimate that tens of thousands of elephants are being killed each year, the New York Times reported earlier this year, and their activity -- along with the efforts to stop them -- have an increasingly militarized character. The only real hope for stopping it is more aggressive monitoring -- both in the parks and at the borders.
But better monitoring is a challenge for states both financially and politically (the Ugandan military, for example -- one of the Pentagon's closest partners on the continent -- has been linked to the poaching trade). How can states such as Nepal and Kenya, which are trying to prevent poaching, do a better job without much more resources? That's where the WWF's Google-funded drones come in.
The drones are small and unarmed -- just "heavily modified model aircraft," according to Fast Company -- and are launched by hand. This video from biologist and conservation-drone advocate Lian Pin Koh shows a drone being launched in Nepal followed by ten minutes of footage captured in flight:
As the drones collect data, they send their observations back to law-enforcement units, who can then intervene if poachers are threatening animals (though it is hoped that the system will also act as a deterrent and prevent the poachers from showing up in the first place).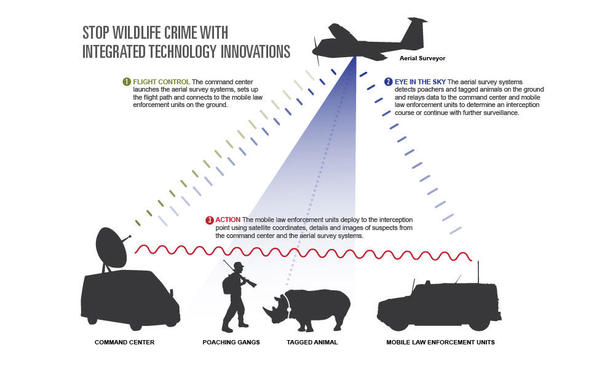 World Wildlife Fund
Drones are more typically associated with targeted killings than with humanitarian aid or conservation, but the technology itself is flexible, and can be applied to any purpose for which remote observation would be helfpful. Equipped with UAVs, conservation groups may be able to finally tamp down the supply of ivory and the like, thus pushing the prices of illegally-traded animal parts high enough that Africa and Asia's elephants, rhinoceros, tigers, and others may stand a chance at surviving the prosperity of our growing global economy.