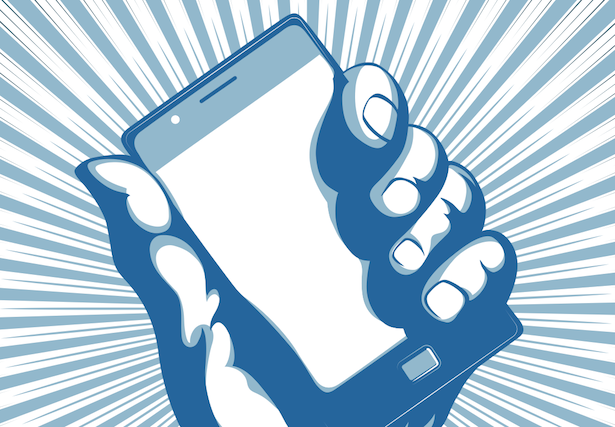 Twenty years ago today, the software engineer Neil Papworth sent a text-based note to Vodafone director Richard Jarvis. The message read, prematurely, "Happy Christmas."
Since that moment, texting has given corporations new ways to interact with consumers, and vice versa. It's opened up new avenues for entertainment. It's provided the potential to revolutionize advertising, and news, merging a core human condition -- mobility -- with another human universal: communication.
But texting, in the kind of brute linguistic efficiency it demands of its users, has done something else, too: It has given us a new kind of English, one that marries the tools of written language -- the Roman alphabet, in this case -- with the tools of speech: sounds, disembodied syllables. SMSese, or Textish, or whatever you want to call it, is now recognizable as its own, highly condensed linguistic strain -- a tech-modified creole, borne of brevity and realized in a keypad's conversion of numbers to letters. Ppl lkit, 2, b/c its gr8!
Texting has not, as it has sometime been feared, killed written English. It has not made children stupid. It has not bastardized the language of Shakespeare, who likely would have been better at texting than pretty much ne1. What it has done, though, is put English -- English, the living language, and English, the language that exists in the early 21st century -- into a new context. The abbreviations of the text message aren't just visual abridgements of words; they're also clues as to which words and phrases we think worthy of abridgement in the first place. The language of text, in other words, is a normative language. It's selective; it's reflective; it's communally determined. Shortenings like "IMO" and ":-)" and "W84M" exist because enough of us have needed them to exist to make them common. Enough of us opine and emote and run late that we need universalized abbreviations that can convey those conditions to our friends.
With that in mind, here are some of the most common abbreviations, per another agent of crowdsourced wisdom, Wikipedia: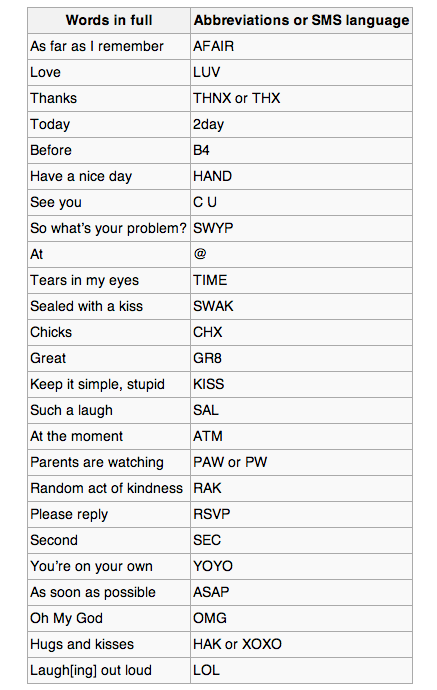 And there are, of course, many more where those came from.
The abbreviations, though, for all that, may well be temporally constrained. Because the text message could be, as Alexis pointed out earlier this year, a temporary thing; we might have reached, already, peak text. Which means that the linguistic anomalies listed above -- the PAWs and the ATMs and the AFAIRs -- may prove to be brief blips in the long story of human language: abbreviated vessels of communication that are as short and as time-bound as text messages themselves.