Warning: The tweets are really, really racist.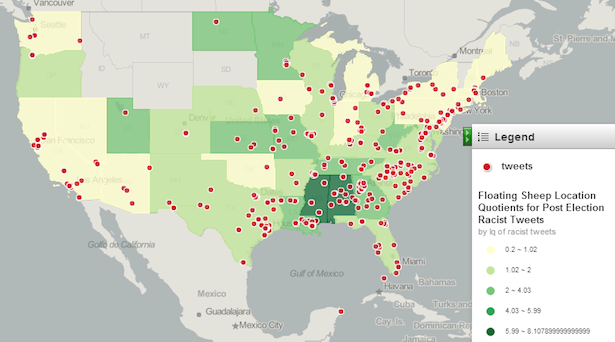 The day after Barack Obama won a second term as president of the United States, the blog Jezebel published a slideshow. The gallery displayed a collection of screen-capped tweets. Among them was this:
And this:
And this:
There were, both shockingly and unsurprisingly, many more where that came from. And many of those tweets were geocoded: Embedded in them were data about where in the U.S. they were sent from.
Floating Sheep, a group of geography academics, took advantage of that fact to turn hatred -- and, just as often, stupidity -- into information. The team searched Twitter for racism-revealing terms that appeared in the context of tweets that mentioned "Obama," "re-elected," or "won." That search resulted in (a shockingly high and surprisingly low) 395 tweets. The team then sorted the tweets according to the state they were sent from, comparing the racist tweets to the total number of geocoded tweets coming from that state during the same time period (November 1 - 7). To normalize states across population levels, the team then used a location quotient-inspired measure -- an economic derivation used to analyze norms across geographical locations -- to compare a state's racist tweets to the national average of racist tweets.