Today Is the Release Day for a Video Game Featuring David Petraeus
Call of Duty: Black Ops 2 includes a "real-life-hero-turned-futuristic-video-game-politician."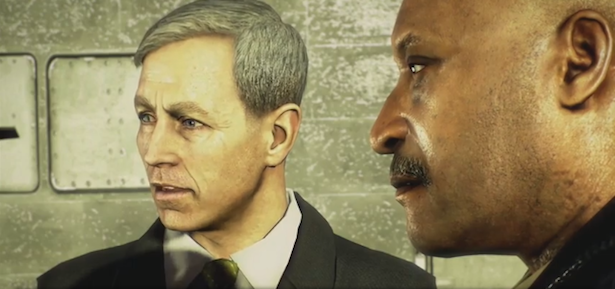 Call of Duty: Black Ops 2 via Kotaku
Today, you may or may not have heard, is the release day for Call of Duty: Black Ops 2.
This would be news to nobody except gamers, were it not for a rather awkward coincidence: The game features a cameo from ... David Petraeus. The real-life former general appears in the fictional game as the Secretary of Defense (in the year 2025, serving under a Hillary Clinton-style female president). Insert your preferred joke here.
The game-focused blog Kotaku made the discovery -- and made, helpfully, a video of Petraeus's appearance. It also notes the supremely unfortunate timing of the game's release. As Kotaku's Stephen Totilo puts it: "All of this adds up to an incredibly awkward coincidence and a bit of unintentional comedy for the otherwise ultra-serious Tom Clancy-style military fantasy that is Black Ops 2. The game's creators at Activision and Treyarch probably thought they had a safe a pick for real-life-hero-turned-futuristic-video-game-politician."
They probably did. Who, until last week, seemed more reliably future-proof than the former general? Who in the military had been the subject of more respect, or hagiography? Who had acquitted himself more admirably in the Army and beyond it?
Petraeus himself wasn't involved in making the game, a rep for Call of Duty's publisher told Totilo; he was voiced by the actor and political impressionist Jim Meskimen. But there he is, regardless, captured straddling the line between reality and fantasy: a war hero turned cabinet member, a military man turned civilian, protecting an America of the future from those who would wish it harm.