The Wright Brothers' Famous 1903 Flying Machine Patent Is Missing
Federal agents are searching for the patent and related documents, which no one is known to have seen since around 1980.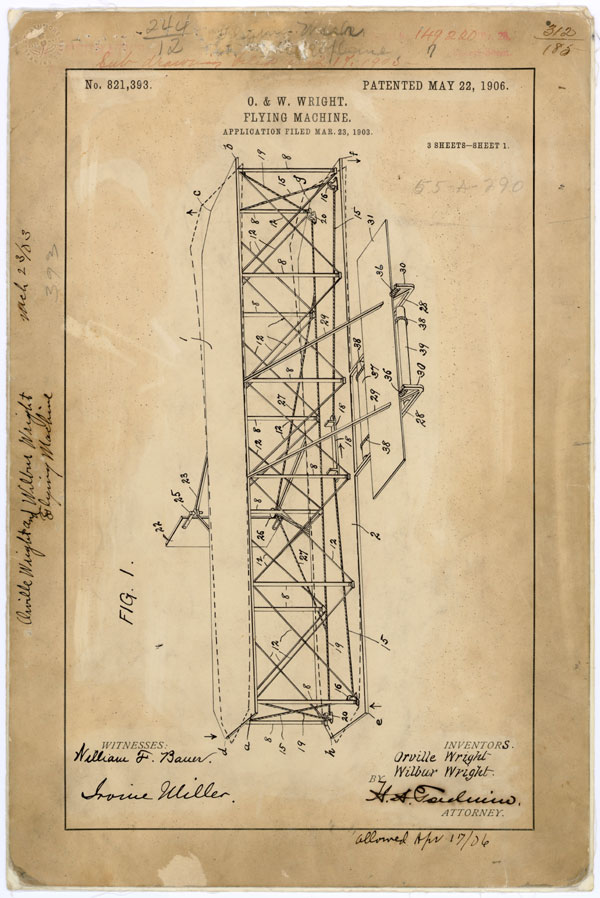 NARA
In March of 1903, the Wright brothers applied for a patent, swearing that "they verily believe themselves to be the original, first, and joint inventors of improvements in flying machines." It was granted three years later. But now it's nowhere to be found, according to a recent 60 Minutes report. As Air & Space/Smithsonian magazine's Daily Planet blog explains:
From 1969 to 1980, the patent file for the Wright Flyer was passed around various National Archives offices, and it spent some time at the National Air and Space Museum. The document was returned to the Archives in 1979, and somebody there remembers laying eyes on it in 1980, says [Mitch Yockelson, an investigative archivist at the National Archives]. When curators began planning a commemoration of the Centennial of Flight, in 2003, the patent file had vanished.

What might it fetch on eBay, where missing items regularly turn up? "Millions, I assume," Yockelson says. "No, wait: actually, it's priceless."
Yockelson and his team of investigators are working to locate the patent and other missing items for the Archives. They travel to collector's shows, set up a booth with facsimiles of what they're looking for, and hope that someone they talk to has seen a missing piece of history.
H/t @paleofuture.