The Post-Charismatic Organization: Another Sign That the Steve Jobs Era Is Actually Over at Apple
Turbulence in the company's design wing may be good news for users.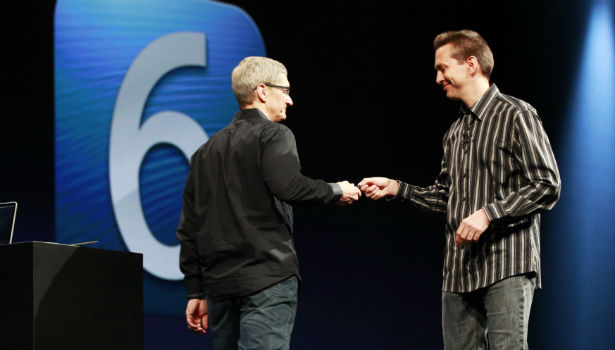 A New York Times report presents the background of the departure of Apple's mobile software head, Scott Forstall, a longtime executive and stalwart follower of Steve Jobs. Forstall allegedly was fired for refusing to apologize for the iPhone 5's poorly received maps program. But as leaks in Apple's wall of confidentiality had already revealed, the changes were the outcome of a longer internal conflict:
Steven P. Jobs, the Apple chief executive who died a year ago, pushed the company's software designers to use [a gray background] linen texture liberally in the software for the company's mobile devices. He did the same with many other virtual doodads that mimic the appearance and behavior of real-world things, like wooden shelves for organizing newspapers and the page-flipping motion of a book, according to people who worked with him but declined to be named to avoid Apple's ire. The management shake-up that Apple announced on Monday is likely to mean that Apple will shift away from such visual tricks, which many people within the company look down upon.
The designer Tom Hobbs had already assailed it on his Fast Company blog. And another expert on user interface design was equally severe in the Times piece:
Axel Roesler, associate professor and chairman of the interaction design program at the University of Washington, says Apple's software designs had become larded with nostalgia, unnecessary visual references to the past that he compared to Greek columns in modern-day architecture. He said he would like to see Mr. Ive take a fresh approach.

"Apple, as a design leader, is not only capable of doing this, they have a responsibility for doing it," he said. "People expect great things from them."
Apple's situation is not unique. It's part of a syndrome that might be called the post-charismatic organization. Men and women acclaimed as geniuses rarely are completely consistent. They succeed partly by keeping diverse subordinates in balance. Jobs combined Zen-inspired purism with a generous dose of populist kitsch, an unstable equilibrium. I've written at greater length about succession issues here.
Forstall made important contributions to the Apple interface over the years, as the Wired blogger Christina Bonnington notes. But the Windows 8 interface has forced Apple's hand, whatever the problems of its first implementation. Market analysts are relieved that it was Apple's chief designer Jonathan Ive, his generation's leading modernist, who has prevailed.
The changes at Apple should be good news for users. Design hegemony of any company is bad in the long run. Vigorous competition of interfaces from Apple, Microsoft, Google, and others means some confusion, but also improved usability all around.