The Places Where America's Drones Are Striking, Now on Instagram
The rural pockets of Yemen, Somalia, and Pakistan have never felt so close and so far away.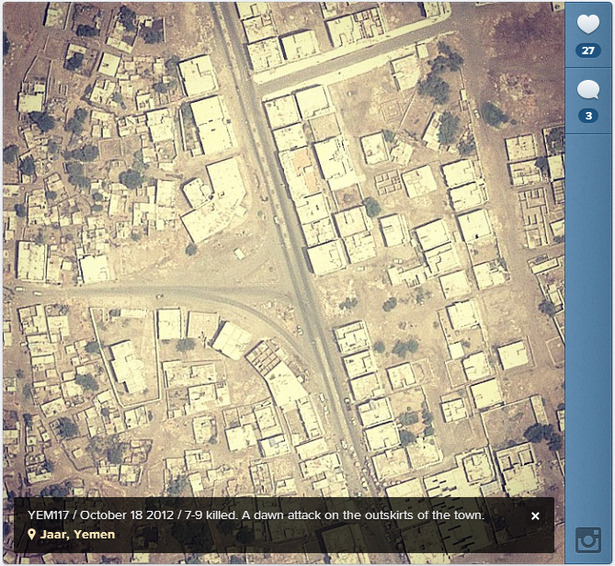 Dronestagram
So far this year the American military has launched more than 330 drone strikes in Afghanistan alone -- an average greater than one per day. In Pakistan, Yemen, and Somalia the numbers are smaller -- 80 altogether -- but the lesser frequency doesn't make the strikes any more comprehensible. From this side of the war, America's drone strikes feel very remote, their consequences quite abstract, their targets unmoored to actual physical locations.
But with our powerful maps and comprehensive satellite images of the world over, visuals of each of those places lives online, a few clicks away, if we would bother to look. A new project, Dronestagram, is doing the searching for you, marrying the images of Google Maps satellite view to the episodic, image-sharing capacities of Tumblr and Instagram. When drone strikes are reported by the Bureau of Investigative Journalism (which focuses on Pakistan, Yemen, and Somalia but not Afghanistan), writer James Bridle tracks down the locations on Google Maps and then Instagrams the picture. He annotates each drone's-eye-view with a caption about the strike, noting any known casualties.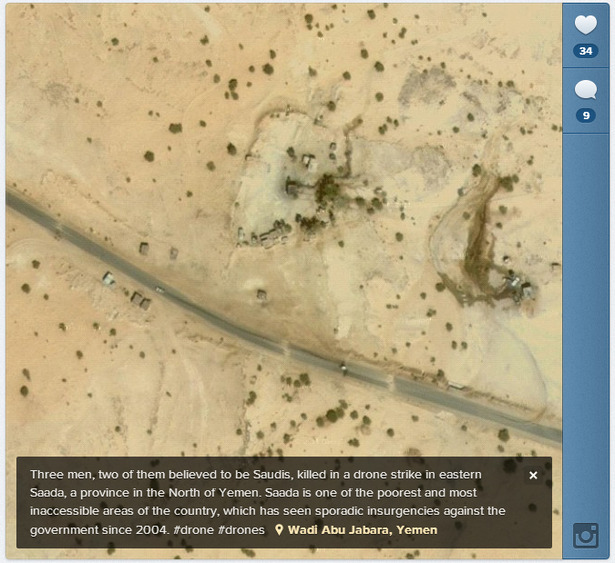 It can be hard to pinpoint exactly where the drone strike occurred. As Bridle explains on his website, "Many are in outlying areas and the information on exact locations is scarce; where a precise location is not given, the view should be within a few kilometres in most cases. ... Nevertheless: the landscapes and the places and their names are real."
The idea is to make these places more real to us. He writes:
Wadi al Abu Jabara. Beit al Ahan. Jaar. Dhamar. Al-Saeed. Tappi. Bulandkhel. Hurmuz. Khaider khel.

These are the names of places. They are towns, villages, junctions and roads. They are the names of places where people live and work, where there are families and schools. They are the names of places in Afghanistan and Yemen, which are linked by one thing: they have each been the location of drone strikes in the past couple of months.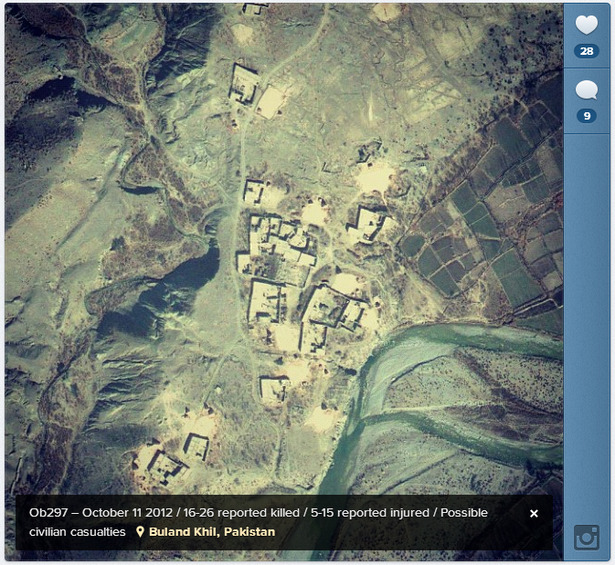 Technology has countervailing effects. We can send a battle by air to a land we have never set foot in, laying previously unimaginable distance between us and our wars. But at the same time we can see on a device in our pocket a satellite picture of these places so remote. Maybe, Bridle writes, the instant connectivity of our world can be a platform not just for faster information, but for deeper empathy for people who live a world away.