Our Little Guy, the Curiosity Rover, Takes a Self-Portrait on Mars
Humans somehow sent this advanced machine to another planet, and here it is in high-res glory.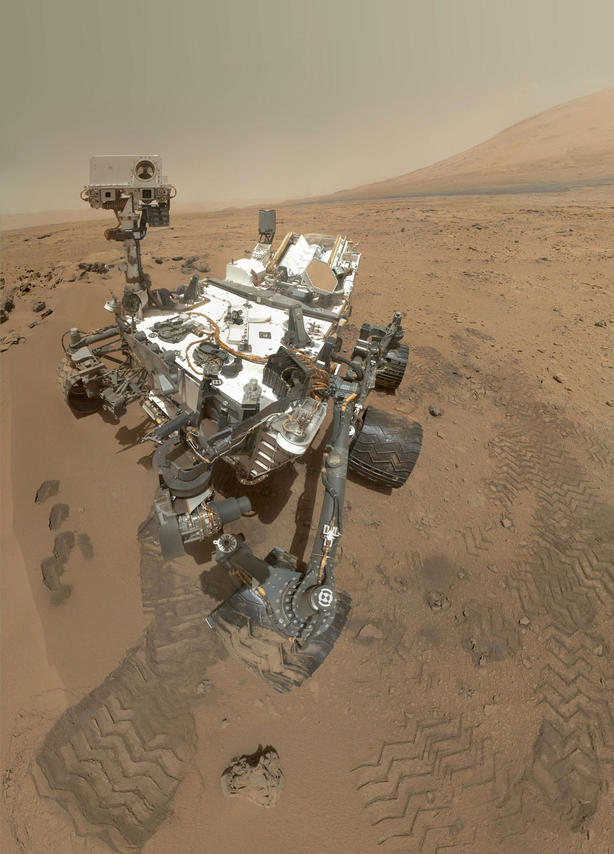 NASA
Among all the pictures of Martian soil, riverbeds, and vistas, the machine that NASA sent to the planet tends to disappear from the scene, a stage-hand whose work takes center stage, but whose physicality is invisible. Soon after Curiosity landed on Mars, it sent back a small picture of its face, which Alexis said appeared to be giving the camera (mounted on the end of an extendable, rotatable arm) a bit of a wink. (It's basically impossible not to personify the little rover, with its personality-laced Twitter feed and WALL-E-esque appearance.)
Now, two months later, comes the rover's most high-definition, detailed self-portrait yet, composed of 55 different images. In the picture, the rover is sitting at Rocknest, a point in Mars' Gale Crater. Four holes in the soil are visible where the rover has scooped up soil for analysis. The slope of Mount Sharp is visible in the background to the right. Click through to "embiggen" the image.*
*Quotation marks added in honor of Rick Jones' comment below.