Occupy Sandy Hacks Amazon's Wedding Registry (in a Good Way)
A group takes advantage of Amazon's gift registry to get donations to storm victims.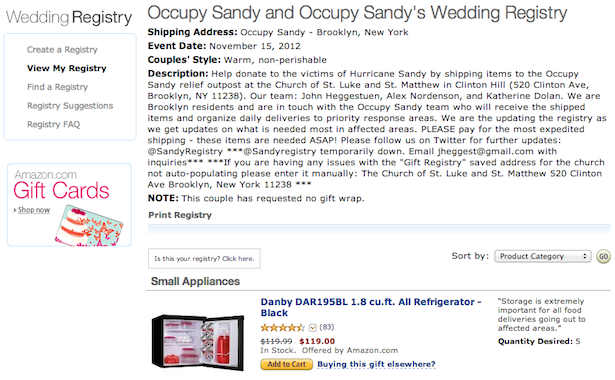 Occupy Sandy isn't getting married. But it would like a gift all the same.
The volunteer group -- an offshoot of Occupy Wall Street, focused on helping victims of the storm -- is using an especially clever hack of an existing system: Amazon's gift registry service. Those displaced by the storm, the group realized, need blankets. They need flashlights. They need hygiene products. They need a bunch of things that are orderable -- with that famous one-click efficiency -- through Amazon. Now, anyone who uses Amazon can buy them those things, and have them shipped to the area hardest hit by the storm. Victims need stuff; people want to give them stuff; Occupy Sandy, via Amazon, is bringing them together.
The registry started, coordinator John Heggestuen told me, with a particularly frustrating phenomenon: a thwarted attempt at volunteering. Heggestuen and two of his friends -- Alex Nordenson and Katherine Dolan -- went to a shelter on Friday in an attempt to volunteer there. "They didn't have anything for us to do," Heggestuen said in an email, "so we went to the Occupy Sandy location at 520 Clinton Ave (Church of St. Luke and St. Matthew)." And "there was a tremendous effort there."
As the friends were walking to a store to buy some food that they could donate, Heggestuen says, they talked about how they might improve the donation system. "My friend Alex said something to the effect of, 'we need something like a wedding registry.' I thought it was a great idea and my gears started turning. When we got to the store, I was so excited that I gave my friends my money for groceries and ran back to the church to start to set this up."
Heggestuen asked Sam Corbin, who was was helping to oversee the effort at the church, if the location could serve as a shipping address for out-state-donations. And "she said it was a great idea."
With that in place, the friends worked on setting up the registry over the weekend -- an effort helped along by the fact that both Nordenson and Dolan work in social media. "Right now," Heggestuen says, "we are setting up an inventory management team at the church to keep track of the donations when they arrive."
As for the people who have decided to use the registry to assist Sandy's victims? "We are still trying to get clear numbers," Heggestuen says. "We know it's a lot from emails we have received, but Amazon's registry is not updating quickly enough to accurately reflect what has been bought. We need some help getting their attention and we are asking twitter users to tweet @amazon for free shipping and tech support for the Sandy Wedding Registry."
Despite the lag time, though, gifts are being bought. Thanks to the effort, Sandy victims will have blankets -- and flashlights, and toothbrushes -- that they didn't before. "It is really inspiring how much support has poured out for Sandy victims," Heggestuen says. "I have never seen a volunteer effort like Occupy Sandy, everyone is so motivated to help. I'm humbled."
Hap tip Chris Heller.