Google: 'Government Surveillance Is on the Rise'
It's not just Petraeus. Google is seeing ever greater efforts by governments to monitor citizens' online activity.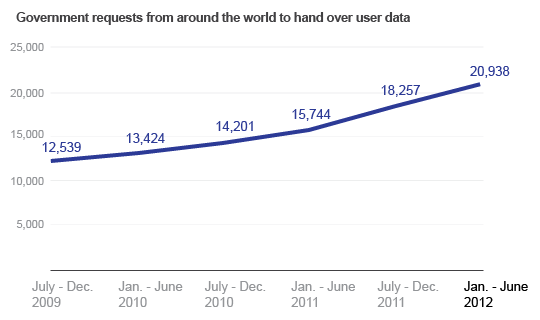 Google
Three years ago a small team at Google decided to start releasing data on the requests they receive from governments to share or remove data from the Internet. At the time, savvy Internet users might have understood that governments do make these requests, but having any sense of the scale of the problem -- let alone whether it was getting better or worse -- fell beyond what was knowable from public information.
Since that time, Google has been releasing updates to its Transparency Report twice a year, and a clear trend has emerged. "Government surveillance," Google senior policy analyst Dorothy Chou writes, "is on the rise." The chart above tracks the changes in government requests for user data since Google began its report.
In addition to that gradual uptick, Google noticed a more sudden leap in the number of requests worldwide to remove content altogether -- this after two years of relative stability.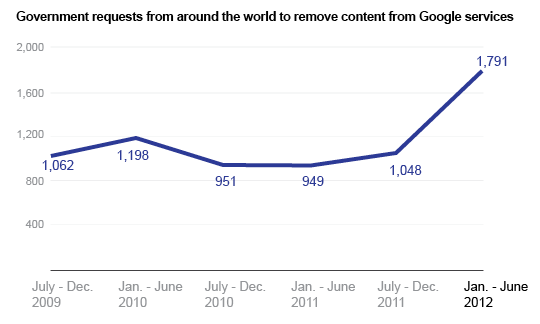 Google
Unfortunately, because Google doesn't speculate as to the causes or provide detailed descriptions of the requests, it can be hard to know why we're seeing this trend. Simply more aggressive governments? Natural outcome of increased global Internet use? Some sort of particular political situation that resulted in increased censorship? We don't know.
One thing that is clear is that by far the leading reason cited in a request to take down material is defamation, as Google revealed in this graph:
Google
Additionally, Google's compliance rate has fallen dramatically -- not, one expects, because its standards have tightened (they've always been pretty tight) but because governments are just getting more aggressive in the kinds of materials they see fit to request.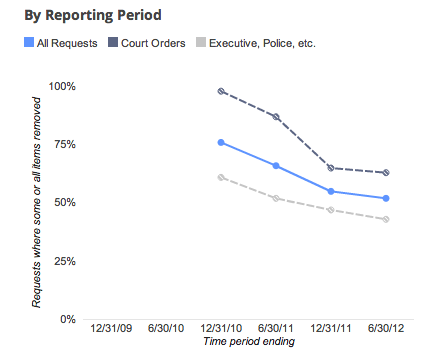 Google
As always, Google has filled out its report with some country-specific notations, and this report's section contains several examples of Google turning down requests to remove content critical of government officials, a practice so critical to freedom of speech worldwide it cannot be underestimated. For examples:
That Google should have such power is perhaps unsettling; that it is using this power to protect political speech is hopeful.